Bombardment of Homs kills 21 : Syria's activists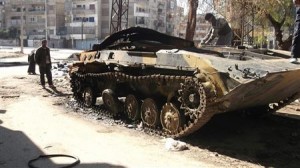 Syrian government forces killed 21 people and wounded some 340 on Tuesday when they unleashed a heavy artillery barrage on a rebel-held district of the city of Homs, activists said.
The bombardment rained down as International Committee of the Red Cross officials tried to negotiate a pause in the fighting to allow them to bring aid to civilians suffering in horrendous conditions after 18 days of attacks on Homs.
In Damascus, security forces opened fire on demonstrators overnight, wounding at least four, activists said, in the latest sign that the 11-month-old uprising against President Bashar al-Assad is taking a grip on the capital as well as the provinces.
Western powers and the Arab League prepared for a meeting of the "Friends of Syria" contact group in Tunisia on Friday to pressure Assad to step down, while Russia and China backed Assad's own program for reforms.
Russia said it would not attend the meeting because the Syrian government would not be represented. The Russian Foreign Ministry suggested the United Nations Security Council should send a special humanitarian envoy to Syria.
Activists said government forces launched the artillery attack on Homs after rebel fighters holding the opposition Baba Amro district blocked troops from entering.
"Several shells are falling each minute," activist Nader al-Husseini told Reuters from the district, adding that two children were among the victims.
Another activist said 21 bodies had been found, many dug out from under the rubble. "Others are still buried. Today the shelling is very fierce," he said.
The London-based Syrian Network for Human Rights said at least 250 shells and rockets had hit Baba Amro since the morning and Syrian air force planes were flying reconnaissance missions.
Activists said government forces backed by armor and under the control of Alawite officers, from the same minority sect as Assad, have been closing in on Baba Amro, a Sunni Muslim neighborhood, since the offensive on Homs began on Feb 3.
Tanks are deployed in the Inshaat district next to Baba Amro, opposition sources said, and the Syrian Observatory for Human Rights said a convoy of more than 50 armored vehicles was seen heading from Damascus towards Homs on Tuesday.
Homs, a city of one million people athwart the Damascus-Aleppo highway, has been at the heart of the uprising against Assad's 11-year rule.
Dangerous conditions and government curbs on access make it hard for media to verify activist reports, but international rights and aid organizations confirm a bloody and desperate standoff in which several hundred people have been killed.
UNDER FIRE IN DAMASCUS
Assad says the revolt, until recently limited mainly to the provinces, is the work of foreign-backed terrorists.
But crowds rallied in the capital Damascus on Monday night and at least four people were wounded when security forces opened fire, activists said.
"There were hundreds of demonstrators at the main square of Hajar al-Aswad and suddenly buses of security police and shabbiha (pro-Assad militia) turned up and started firing into the crowd," activist Abu Abdallah told Reuters by telephone.
Footage posted on YouTube, purportedly taken before the shooting, showed a crowd marching in Hajar al-Aswad carrying placards in support of besieged Homs and singing "Eyes are shedding tears for the martyrs among Syria's youth."
Elsewhere, an activist group in Kfar Tkharim near the Turkish border said rebel fighters had killed five soldiers and captured two in an ambush on a government column.
An activist in al-Qusair, about 32 km (20 miles) southwest of Homs and close to the Lebanese border, said five people were killed and eight wounded when the northern part of the town came under heavy fire from army mortars and T-72 tanks.
"People in that area are hiding in their homes, they can't leave. Others are resisting. Those who are farther away are fleeing the town. Some people are so scared they're trying to leave anyway even if they are close to the fire," Abu Ansa told Reuters by telephone.
Activists in the western city of Hama said troops, police and militias had set up dozens of roadblocks, cutting neighborhoods off from each other.
Ahmad Ramadan, a leader of the opposition Syrian National Council, said Assad loyalists killed his brother Mahmoud when they riddled his car with gunfire in his home city of Aleppo.
"The regime has been accusing Mahmoud of sending food and medicine to Homs and he was receiving daily threats. He was hit in the head and neck and died immediately," Ramadan told al-Jazeera Arabic news channel.
CALL FOR CEASEFIRE
The Geneva-based International Committee of the Red Cross, the only international organization deploying aid workers in Syria, said on Monday it was in talks with the authorities and opposition fighters for a ceasefire to bring aid to civilians.
Diplomatic sources said the ICRC was seeking two-hour ceasefires in places such as Homs, where residents are running out of food, water and medicine.
Western and Arab nations who want Assad to relinquish power are preparing an explicit gesture of support for his opponents.
U.S. Secretary of State Hillary Clinton said the Friends of Syria meeting would show that his government was increasingly isolated and offer support for "the brave Syrian people."
"We'll send a clear message to Russia, China and others who are still unsure about how to handle the increasing violence but are up until now unfortunately making the wrong choices," Clinton said in Mexico at a meeting of the G20 world powers.
Lebanese Druze leader Walid Jumblatt, who has sharpened his criticism of Assad, condemned the Syrian leader's plan for a referendum on a new constitution, saying Sunday's vote would be held "while the souls of corpses and the dust settle in Homs."
In a newspaper article he also criticized Western powers for not formally recognizing the Syrian opposition, saying they had retreated from their earlier "clear support of the demands of the Syrian people."
Assad met a senior Russian politician in Damascus on Monday, who reiterated Moscow's support for his self-styled reform program and spoke out against any foreign intervention. China accused Western countries of stirring up civil war.
Nevertheless, the chief of the Arab League, which has suspended Syria for its crackdown on protesters, said Russia and China might temper their support for Assad.
"There are indications coming from China and to some extent from Russia that there may be a change in position," League Secretary-General Nabil Elaraby said in Cairo.
Assad's government says it is committed to meeting demands for democracy with a referendum on Sunday on a new constitution, leading to multi-party elections within 90 days.
Western officials and Syrian dissidents have dismissed the plan, saying a valid election cannot take place amid bloodshed.
Reuters
Photo: A damaged armoured vehicle belonging to the Syrian army is seen in the Syrian district of al-Khalidya in Homs February 20, 2012. Syrian government forces killed at least 16 people and wounded some 340 on Tuesday when they unleashed a heavy artillery barrage on a rebel-held district of the city of Homs, activists said. Picture taken February 20, 2012. REUTERS/Stringer