EU could cope without Iranian oil, says IEA
The European Union could cope with an abrupt halt by Iran of oil exports to the region because buyers of Iranian oil are already adjusting to the EU's forthcoming ban on Iranian shipments, an International Energy Agency official said on Monday.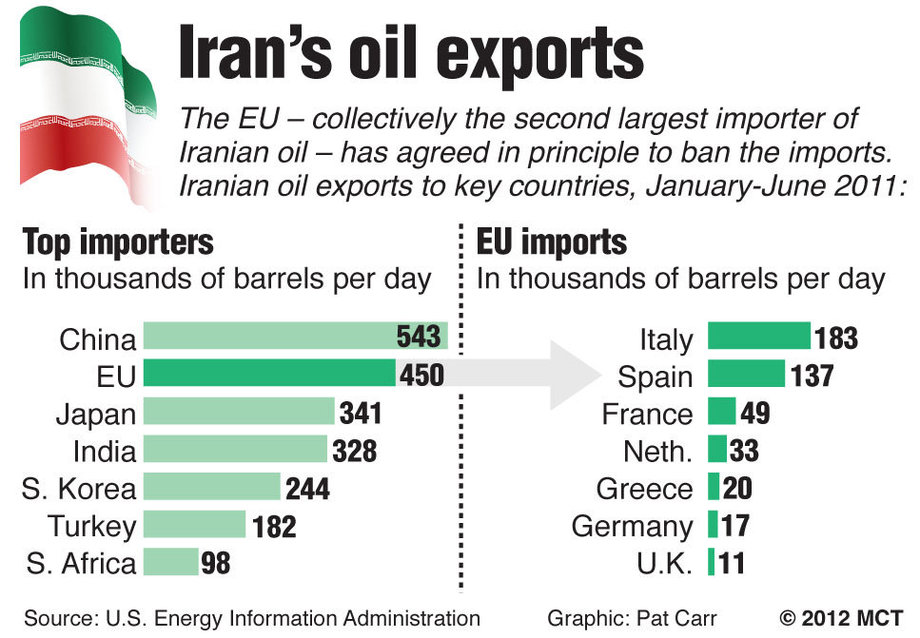 Oil prices rose on Monday to an eight-month high above $121 a barrel as Iran said it halted exports to British and French companies ahead of a European Union embargo starting on July 1.
"We don't think this announcement will have a real impact on the market, because France and the UK have already stopped buying crude from Iran," said Didier Houssin, director of energy markets and security of the International Energy Agency.
Iran's announcement came after European oil buyers have already cut purchases from Iran ahead of the sanctions, reducing flows to the continent in March by more than a third – or over 300,000 barrels per day, according to industry sources.
Given that customers are readying themselves for the embargo on Iranian oil and that demand for crude typically declines at the end of the northern hemisphere winter, the EU could also cope with a wider stoppage by Iran of its oil sales.
"If such a move were taken by Iran to immediately stop exports, we don't think it would have a very significant impact on the market," Houssin said.
"Because again the customers are already adjusting to the new environment … Second, we are getting close to the end of the winter period, and the second quarter is typically when European refiners go for maintenance."
The IEA advises 28 industrialized countries. IEA members are required to hold emergency oil inventories in case of supply disruptions, and the agency last year tapped those stocks in the wake of the loss of Libya's oil exports.
The agency is prepared to respond again should it need to, Houssin said.
"We are monitoring the situation carefully as we usually do," he said. "We stand ready to react if needed."
On Monday, a European Commission spokeswoman said Belgium, the Czech Republic and the Netherlands had stopped buying Iranian oil, while Greece, Spain and Italy were cutting back in the run-up to the EU embargo's taking effect.
The Commission said it did not have official confirmation of whether France had halted imports.
Other European Union nations Austria and Britain have not been buying Iranian oil since 2010.
EU law requires all member states to hold stocks equivalent to at least 90 days' use, and oil inventories are currently more than that at around 120 days, spokeswoman Marlene Holzner said last week.
Reuters