Bassil denied any involvement in the red diesel scandal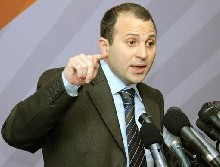 Energy Minister Gebran Bassil  denied  on Monday any involvement in the red diesel  scandal
"We do not  take sides with  oil companies, and we have no  personal  relations with them," Bassil said during a press conference.
Bassil also said that he has always opposed   subsidies on red diesel and claimed that the cabinet insisted on keeping them.
He also said that he has suggested that the tax on fuel be removed.
Bassil's comments come after Judge Aouni Ramadan, the Lebanese Audit Bureau chief said on Monday that the bureau will pursue the issue of red diesel scandal in Lebanon until it is resolved. He revealed to National News Agency (NNA) that the Bureau had referred a report on the case to the General Prosecution.
Ramadan said last January that 101 million liters of red diesel were sold to merchants the night before government subsidies on the fuel were discontinued.This is more than 11 times the number revealed by Bassil last month
"It appeared to us through the field investigation that the amount of red diesel sold is 101 million liters," Ramadan told Al-Mustaqbal newspaper on January 27.
The subsidy that was  discontinued on January 19 was 3000 LL ( $2.00) per 20 liters or 10 cents per liter . This means that that the companies that bought the product made more than 10 million dollars profit at the expense of public funds , according to local   energy analysts