Assad allies show support, as Iranian ships reach Syria
Russia, China and Iran showed support for Syrian President Bashar al-Assad on Monday, days before an international meeting likely to pile more pressure on him to step down in the face of an increasingly bloody uprising.
Assad met a senior Russian politician in Damascus, who reiterated Moscow's support for his self-styled reform programme and spoke out against any foreign intervention in the conflict, Russian and Syrian news agencies reported.
China accused Western countries of stirring up civil war in Syria, and two Iranian warships docked at a Syrian naval base, underscoring rising international tensions over the near year-long crisis.
Government forces pressed on with their crackdown on the anti-Assad uprising, with opposition activists reporting five people killed in renewed shelling of an opposition-held district of Homs and troops and militia blockading Hama. Both cities have been in the forefront of the revolt.
The crisis is entering an important week, with Western and Arab powers due to meet at a conference in Tunisia on Friday to pressure Assad to give up power, while Assad forges ahead with plans for a referendum on Sunday for a new constitution.
The referendum, which would lead to multi-party elections within 90 days, is part of what Assad describes as a reform programme to address demands for more democracy. Syria's official SANA news agency said about 14,600,000 people are eligible to take part in the referendum.
The West and Syrian opposition figures have dismissed the plan as joke, saying it is impossible to have a valid election amid the continuing repression.
FROM RUSSIA WITH LOVE
Alexei Pushkov, head of the international affairs committee of Russia's lower house of parliament, met Assad in Damascus on Monday and affirmed Russia's support for the plan. Moscow is Syria's main arms supplier and an ally dating back to the Cold War.
Pushkov also stressed the need "to continue working for a political solution to the crisis based on dialogue between all concerned parties, without foreign intervention," SANA said.
Assad, who shows no inclination to relinquish power, told Pushkov Syria was being targeted by armed terrorist groups supported by foreign elements aiming to destabilize Syria.
China, which sent an envoy to Damascus this weekend, also backs Assad's idea of a political solution and has appealed to the government and opposition alike to halt the violence.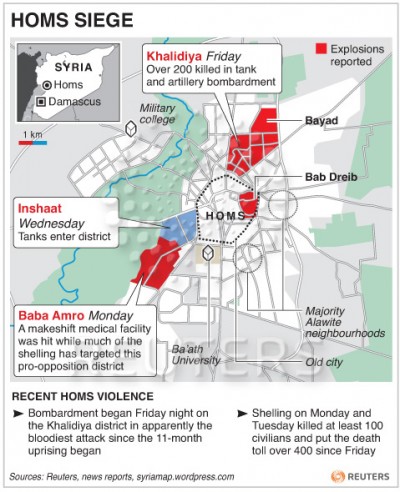 China's Communist Party mouthpiece, the People's Daily, took the West to task in a commentary on Monday, saying: "If Western countries continue to fully support Syria's opposition, then in the end a large-scale civil war will erupt and there will be no way to thus avoid the possibility of foreign armed intervention."
The West has so far ruled out any Libya-style military action but the Arab League, led by Saudi Arabia, has indicated some of its member states were prepared to arm the opposition.
HALT TO FIGHTING SOUGHT
A more immediate concern for the West is the plight of civilians caught up in the offensive against the opposition and a nascent rebel army. Activists in embattled cities such as Homs say food supplies are running out and doctors lack medicine to treat the wounded.
The International Committee of the Red Cross (ICRC) said in Geneva it was negotiating with Syrian authorities and opposition fighters for a ceasefire to bring life-saving aid to civilians. Diplomatic sources said the ICRC was seeking a two-hour ceasefire in hotspots including Homs.
Opposition activists said five people had been killed in government shelling of Homs's Baba Amro district on Monday, adding to a reported death toll of several hundred since the operation began on February 3.
Activists in the western city of Hama said troops, police and militias had set up dozens of roadblocks, isolating neighborhoods from each other.
"Hama is cut off from the outside world. There are no landlines, no mobile phone network and no internet. House to house arrests take place daily and sometimes repeatedly in the same neighborhoods," an opposition statement said.
Rebel fighters have been attacking militiamen, known as shabbiha, while avoiding open confrontations with armored forces that had amassed around Hama, a city north of Homs on the Damascus-Aleppo highway.
The government restricts foreign media access in Syria, making it hard to independently verify the activists' reports.
In a bold protest in Damascus, opposition youths unfurled a pre-Assad era national flag over a road bridge at the edge of the capital, YouTube footage showed. That followed a weekend which saw one of the biggest demonstrations yet in the capital as the uprising neared its first anniversary.
Security forces have killed at least 5,000 people, according to human rights groups, in a campaign to crush the revolt while the Assad government says more than 2,000 soldiers and security agents have been killed.
Assad has ruled Syria for 11 years after succeeding his father Hafez on his death. The Assad family belongs to the Alawite sect, an offshoot of Shi'ite Islam, in a majority Sunni country, and there are fears the uprising could break down into a full sectarian conflict.
Two Iranian warships docked at the Syrian port of Tartous on Saturday, Iranian state TV reported. The ships were said to be providing training for Syrian naval forces.
With Shi'te-led Iran already at odds with the United States, Europe and Israel over its nuclear programme, the deployment was likely to add to Western concerns that the Syria crisis could boil over into a regional conflict if it not resolved soon.
Israeli Deputy Prime Minister Dan Meridor, asked about the Iranian move at briefing in Jerusalem, said Assad was receiving generous support from Iran and the Hizbollah militant group and that Russia and China had given him "a licence to kill".
Reuters