France, U.K. urge Syrian opposition to unite to overthrow Assad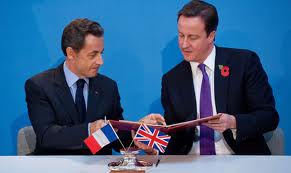 French President Nicolas Sarkozy, flanked by British Prime Minister David Cameron, urged Syrian opponents of President Bashar al-Assad on Friday to unite so that the outside world could help them overthrow him.
Sarkozy said the lack of unity among opposition groups was as much of a hurdle to resolving the crisis than opposition within the U.N. Security Council to taking action and warned that without a credible alternative the uprising would fail.
"The principle obstacle … is not just the blockage at the U.N. In Libya we couldn't have had the revolution without the Libyans and we won't be able to have a Syrian revolution without the Syrian opposition making enough effort to unite that we can support them more," Sarkozy said.
"We will not accept that a dictator massacres his people, but the revolution will not be led from outside. Like in Tunisia, Egypt and Libya, it must be led from the inside," he told a news conference following a Franco-British summit.
Assad is showing no sign of heeding calls to halt the repression of the 11-month uprising against his rule. His forces on Friday resumed pummeling opposition strongholds in the city of Homs, which has been under fire for two weeks.
Cameron also said the lack of a unified Syrian opposition was limiting what the outside world could do to help, but said France and Britain were working together to see how they could better help opponent groups.
On Thursday, 137 states voted in favor, 12 voted against and 17 abstained at the U.N. assembly on a resolution endorsing an Arab League plan telling Assad to step down. Russia and China voted against, after vetoing a similar Security Council text on February 4.
World powers will meet in Tunisia next week to discuss the crisis at a conference co-presided by French Foreign Minister Alain Juppe and his Turkish counterpart Ahmet Davutoglu.
"We want to see the 'Friends of Syria' properly established and the Tunisia meeting to be a success," Cameron said. "We need to take all the action that we can to put the maximum pressure on Assad to go and to stop the butchery that is taking place," he said.
France said on Thursday that a compromise with Russia at the United Nations was possible to end the violence in the short term and provide much needed humanitarian aid to Syrians.
Cameron said as part of aid assistance, Britain was sending food rations to help 20,000 Syrians.
"I want us to go on working, go on thinking, go on combining with our allies and keep asking ourselves what more we can do to try and help transition take place in this country so we get rid of this brutal dictator," he said.
Reuters