Is Syria Conflict Civil War?
With Syrian President Bashar al-Assad continuing his crackdown on anti-government uprisings - and the opposition taking up arms - the bloodshed bears the hallmarks of a civil war.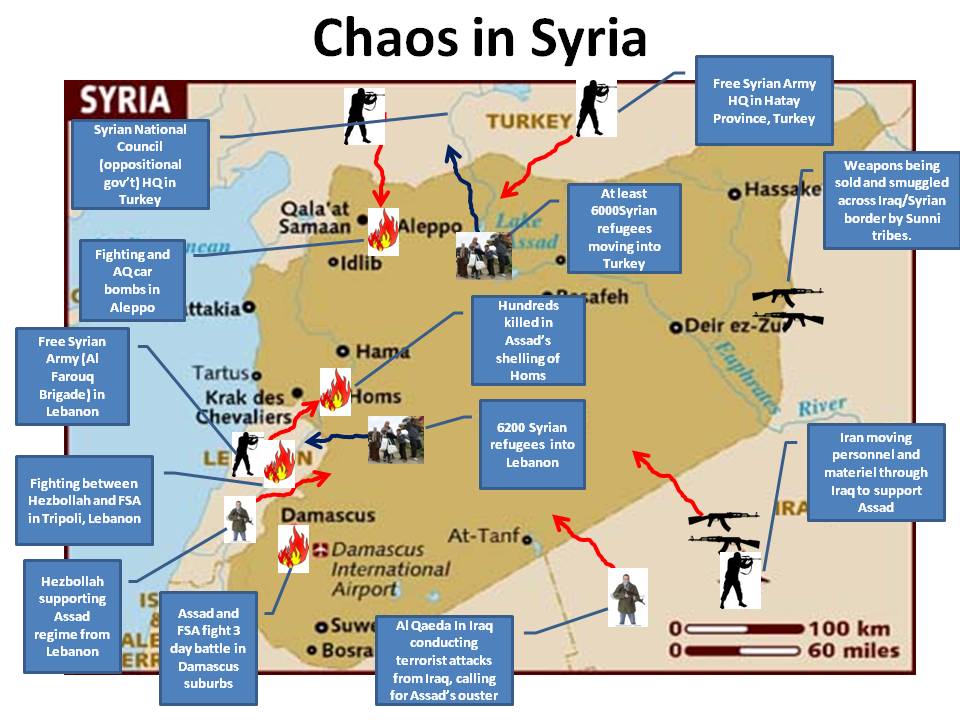 By: JulieAnn McKellogg
With Syrian President Bashar al-Assad continuing his crackdown on anti-government uprisings – and the opposition taking up arms – the bloodshed bears the hallmarks of a civil war.
But the question of whether Syria is indeed embroiled in a civil war is fueling debate not only in international diplomatic circles but also in the blogosphere.
There are no international guidelines that clearly define a conflict as civil war. And the Syrian government and opposition leaders do not describe their fight in those terms.
Syrian activists say they are battling a brutal government and trying to protect citizens. Rebel fighters mainly stage hit-and-run attacks.
Media reports say the armed opposition – largely a group known as the Syria Free Army – has neither the training nor the firepower to conduct a full-fledged military fight against Syrian forces.
The government says it is defending itself against armed terrorists and outside agitators.
Civil war label elusive
Still, the U.N. High Commissioner for Human Rights, Navi Pillay, warned the General Assembly this week that the continued violent repression and sectarian tensions in Syria might soon plunge the country into civil war.
But Syrian activist Karam Nachar took to Twitter this week to quash that notion.
"Stop calling it civil war!," he wrote, "as if there's a symmetry of power btw the regime and the so called 'rebels'! This is a regime killing its people."
VOA posed the question to its Twitter followers: "Share your opinion: Has the unrest in #Syria crossed the line into civil war? Where is the line?"
@AliChubby, a blogger and citizen journalist in Amman, Jordan, Tweeted: "Syria situation been described as 'Getting into Civil War' but I don't think it did…bc not everyone has picked up arms yet."
Nachar told VOA via Skype from his New York City home that the fractured group of rebels around the country is fighting to safeguard the Syrian people.
"Now for the past several months we have seen military defectors that are trying to protect these people, but obviously they are failing," Nachar said. "They are failing to protect themselves. So I am really worried about this shift in discourse in the mainstream media, especially in the West, from talking about a Syrian uprising to talking about a civil war."
Opposition forces organizing
But there are reports that the Free Syria Army fighters, commanded by a senior defector from the Syrian Air Force, seem to be growing in organization. From bases in Turkey, rebels are reportedly gaining increasing outside support with money, arms and underground training.
The London-based Syrian Observatory for Human Rights estimates that 5,400 civilians and about 2,000 Syrian security forces, as well as military officers who have defected, have been killed in the ongoing violence.
Omar McDoom, a lecturer in comparative politics at the London School of Economics, says the Geneva Conventions do not specifically define the term "civil war." They do, however, loosely describe criteria for conditions qualifying as civil unrest.
"This definition doesn't hold very well for many of the internal wars that we see that are being fought today," McDoom said. "As many of these civil wars are in fact very asymmetric, in which the governments are overwhelmingly powerful and, as a result, the opponents often use guerrilla or insurgent tactics where they don't' hold ground. They constantly move, which is the situation here."
McDoom says from an academic perspective, the situation in Syria is "unequivocally in a civil war."
In academia, McDoom says civil war is defined as "incompatibility between the government and the opposition." He says that in a civil war, the opposition is armed and the annual casualty count normally has to total around 1,000 people from both sides of the conflict.
Judging by those figures, the Syria situation seems to fit the civil war template. So does some of the action on the ground.
In the besieged city of Homs on Friday, Syrian forces resumed shelling and bombarding opposition strongholds.
Media reports, gleaned from opposition activists, say that bands of rebels controlling some neighborhoods are returning fire.
VOA