Nigerian 'underwear' bomber gets life in prison in U.S.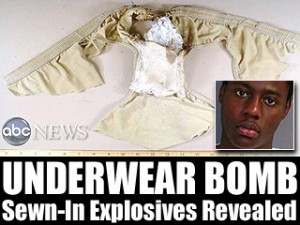 A federal judge on Thursday sentenced a Nigerian man to life in prison for trying to blow up a U.S. airliner bound for Detroit on Christmas Day in 2009 with a bomb hidden in his underwear.
"This was an act of terrorism that cannot be quibbled with," said U.S. District Judge Nancy Edmunds, who imposed the maximum sentence allowed.
Umar Farouk Abdulmutallab, 25, showed no emotion when Edmunds pronounced the sentence, sitting with his hands clasped under his chin, elbows resting on the arms of his chair at the defense table.
The bomb caused a fire but failed to explode on a Delta Airlines flight from Amsterdam carrying 289 people on Dec. 25. He was quickly subdued by passengers and crew and the fire extinguished.
Since then, U.S. officials have sought to bolster airport security, deploying full-body scanners to try to detect explosives.
Prosecutors said Abdulmutallab had intended to bring down the jet over U.S. soil and was thwarted only by luck. They showed a 52-second video of the kind of blast that the powerful explosive known as PETN, which Abdulmutallab had in his underwear, could have caused if it had detonated.
Three times during the video, the bomber cried out "God is great" in Arabic.
But for most of the 90-minute hearing, Abdulmutallab, who wore a white T-shirt and skull cap, sat impassively in the crowded Detroit courtroom, occasionally leaning over to speak with his lawyer and taking notes.
In sentencing Abdulmutallab, Edmunds described prison life as unrelenting and bleak. "Mr. Abdulmutallab has only that to look forward to," she said.
FAMILY SEEKS REVIEW
None of Abdulmutallab's relatives attended the sentencing, but Anthony Chambers, Abdulmutallab's standby counsel, gave reporters a statement by the family saying they hoped the U.S. Justice Department would review the life sentence.
"We are grateful to God that the unfortunate incident of that date did not result in any injury or death," the family said.
Chambers announced plans to file an appeal on Friday, saying Abdulmutallab might have received a lighter sentence if he had represented him from the start and played a bigger role in his defense.
Abdulmutallab represented himself for most of the court proceedings, including his guilty plea in October.
Four passengers and a flight attendant who were aboard the jet told the judge they were still haunted by the attack.
LeMare Mason, a Delta flight attendant who helped put out the fire caused by the bomb, said he was still suffering from night sweats and a dread of flying.
"I had a dream job of traveling the world and meeting all types of people. This man stole and robbed from me the pleasure. It's punishment going to work now. It's not a joy," he told Edwards ahead of the sentencing.
AVENGING ATTACKS
After Mason and the passengers spoke, Abdulmutallab addressed the court for four minutes, saying that his actions were intended to avenge attacks by the United States on Muslims.
"The jihadi is proud to kill in the name of God and that is exactly what God told us to do in the Koran," said Abdulmutallab, who pleaded guilty in October.
Edmunds said Abdulmutallab represented a threat to U.S. citizens and noted that he had not shown any remorse during two years in a federal prison in Milan, Michigan.
The U.S. Bureau of Prisons will determine where Abdulmutallab serves his life term. U.S. Attorney Barbara McQuade said such prisoners are often sent to the maximum-security "Supermax" U.S. prison in Colorado.
Chambers said Abdulmutallab was not surprised by the sentence and understood what life would be like at a maximum-security prison.
U.S. Attorney General Eric Holder said the sentence underscored the effectiveness of civilian courts "in both incapacitating terrorists and gathering valuable intelligence from them."
Prosecutors last week offered new details about the plot, which they said was directed by U.S.-born Muslim cleric Anwar al-Awlaki, who had become an al Qaeda leader in Yemen.
Awlaki was killed in a drone attack in Yemen last September. In court papers, the FBI identified Awlaki as "chief of external operations" for al Qaeda's Yemen branch as well as an Internet-savvy propagandist and recruiter.