Hezbollah denied role in attack on Israel's missions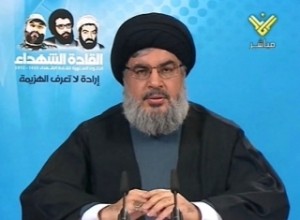 Hezbollah leader Sayyed Hassan Nasrallah denied Israeli accusations on Thursday that his group was behind bombers who attacked Israeli missions in India and Georgia this week.
"I assure you that Hezbollah has nothing to do with this," he told supporters. Israel accused Iran and Hezbollah of being behind twin bomb attacks on Israeli embassy staff in India and Georgia on Monday, wounding four people. Tehran also denied the Israeli accusations.
Nasrallah was speaking at an event marking the fourth anniversary of the assassination of its military commander Imad Moughniyah. The Shi'ite group accused Israel of killing Moughniyah in a car bomb in Syria and has vowed revenge.
Israel has denied involvement, and said that it has since foiled several Hezbollah attempts to kidnap Israelis abroad.
Nasrallah reiterated the group's vow to respond to Moughniyah's killing: "As long as there is blood in the veins of any (member) of Hezbollah (then) the day when we will avenge the killing of Imad Moughniyah will come."
Hezbollah fought against Israel in a 34-day war in 2006 after the group captured two Israeli soldiers in a cross-border raid. Some 1,200 people in Lebanon, mostly civilians, were killed and
160 Israelis, mostly soldiers, died.
March 14
Nasrallah accused Lebanon's March 14 alliance Thursday of funding and smuggling weapons to Syria's opposition while leaving the door open to dialogue without pre-conditions.
Nasrallah also reiterated his support to President Bashar Assad and accused Western and Arab states of seeking to topple the embattled leader, who he said had put forward a series of political reforms that could end the crisis.
"Do laws in Syria permit you [Lebanese Forces leader Samir Geagea] and the March 14 coalition to send arms to Syria and money for those who had honorably fought against the Arab nation's enemy [Israel]?" Nasrallah, who spoke on the annual occasion commemorating slain Lebanese resistance leaders, asked.
Nasrallah was referring to March 14 gathering Tuesday commemorating the seventh anniversary of the assassination of former Prime Minister Rafik Hariri, during which Geagea voiced support to the Syrian opposition and called on Arab and international communities to exhaust all efforts to stop the bloodshed in Syria.
In his speech Tuesday, Geagea said: "To Hezbollah I say … enough is enough. Democracy and freedom have arrived [in Syria]."
Nasrallah also accused March 14 of possessing arms and questioned the group's source of funding.
"We have said we have weapons and we have been increasing our power in quality and quantity. We have talked about weapons but theirs are hidden arms … You [March 14] should confess that you have arms," Nasrallah said.
"Why not show your weapons?" he asked.
On funding, Nasrallah said his group was honest on how it sought financing, namely from Iran.
"I announced [last week] that we receive funding from Iran, but what about you [March 14]? Where does your source of money come from?" he asked.
Despite his accusations against his political rivals, Nasrallah left the door open to a resumption of dialogue with the March 14 alliance.
"We are open to dialogue," Nasrallah said.
"However, If the call for dialogue is accompanied by certain conditions, this is not a real call for dialogue," he added.
During the March 14 event Tuesday, Hariri's son, Future Movement leader MP Saad Hariri, said the March 14 alliance was open to re-launching dialogue but insisted that talks should focus solely on the issue of Hezbollah's arms.
The March 14 movement has repeatedly urged the resistance group to hand over its weapons to the state.
Hezbollah insists its arms are necessary to defend Lebanon against Israel.
"You are not in a position to set conditions," the Hezbollah chief said, adding: "Nor are you in a position to provide assurances."
The Hezbollah also said that the March 14 support for the Syrian opposition is not in Lebanon's interest but could lead to destabilization both the country and the region.
Nasrallah, Damascus's strongest ally in Lebanon, also reiterated support to Assad who is facing growing regional and international pressure to end the violence in his country and hand over power.
The Hezbollah chief blamed Israel for the uprising in Syria and said it is seeking any system of government in Syria other than the one headed by the embattled leader.
"Israel bets and believes that given the regional strategic environment that is working against it that the Syrian regime should be overthrown," he said.
Nasrallah defended Assad and said he had come forward with credible reforms to help end the crisis in Syria but that the United States, Western governments, Israel as well as some Arab states did not want a political solution but solely to see the end of Assad's rule.
"An Arab peace plan with Israel has been on the table for years now … Arab leaders say the only solution concerning Israel is political but they refuse to offer a political solution in Syria," he said.
"There is an Arab, Western, American, and Israeli insistence that there be no solution in Syria and on toppling the regime in Syria," he added.
Nasrallah said Damascus would resist and never succumb to "the U.S. will in the region."
CT, DS