Future movement accuses Government of harboring Hariri killers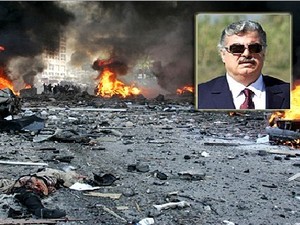 The Future Movement parliamentary bloc accused on Thursday the government of protecting the four Hezbollah suspects in the murder of Lebanon's former PM and praised U.N. Secretary General Ban Ki-moon's decision to extend the Special Tribunal for Lebanon for three more years.
Following its weekly meeting it said in a statement : "The government is harboring the suspects in the assassination of former Prime Minister Rafik Hariri."
It also accused the Hezbollah-led March 8 majority of seeking to destabilize the country, blaming it for the North Lebanon clashes that erupted between the rival neighborhoods of Bab al-Tabbaneh and Jabal Mohsen in Tripoli on Friday.
"The March 8 alliance launched a political, media, military, and security mission to create unrest in Lebanon at the expense of the Lebanese people," said the statement.
President Michel Suleiman on Wednesday said that Lebanon "took notice" of Ban's letter regarding the cooperation protocol with STL.
Four members of Hezbollah were indicted by the UN-backed Special Tribunal for Lebanon in the 2005 assassination of former Prime Minister Rafik Hariri. However, Hezbollah strongly denied the charges and refuses to cooperate with the court.
Lebanon has so far failed to arrest the suspects and the STL Trial Chamber decided on February 1 to try them in absentia.