Mikati : The Arab Spring started in 2002 with Saudi peace initiative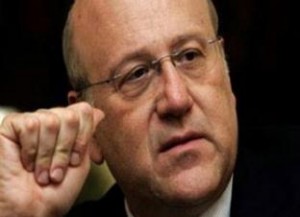 Lebanese Prime Minister Najib Mikati said the Arab Spring started in 2002 with the initiative launched by then Saudi King Abdullah bin Abdul Aziz.
"In 2002, the Arab Summit was held in Beirut and the then Saudi Crown Prince Abdullah bin Abdul Aziz launched an initiative to ensure the prevalence of peace in the region," Mikati told Al Arabiya's Special Interview from the French capital Paris.
The initiative, Mikati explained, was meant to start a new era of Arab-Israeli peace, therefore setting the foundation for the Arab Spring.
"No matter what happens in Arab countries, things will remain complicated as long as wars persist."
Mikati added that the Arab Spring is not about toppling regimes, but rather about setting the stage for peace so that the general atmosphere makes the region ready for further reforms.
"This will only happen when wars end and peace starts."
The relationship between Lebanon and Saudi Arabia, Mikati added, is historic and will never be affected by anything or anyone.
"I am sure I am always welcome in Saudi and I am planning to go there soon."
Concerning relations with Syria, Mikati said that several factors need to be taken into consideration.
"First, we have historic relations with Syria as well as a common geography for we share 80 percent of our land borders with Syria. There are also several protocols and treaties that we signed with the Syrian government."
The second factor, Mikati pointed out, is that Lebanon is keen on maintaining good relations with all Arab countries especially those in which large numbers of Lebanese citizens lives.
"This is something that cannot be overlooked. Lebanon will always be grateful to those countries."
The third factor, said Mikati, is that Lebanon is internally divided over the Syrian issue and that is why taking an impartial stance is the best approach.
"We have to preserve Lebanon's unity through distancing ourselves from what is happening in Syria."
According to Miktai, this stance does not mean ignoring the crisis in Syria, but instead, acting wisely.
"I have repeatedly said that we are not willing to be as reckless as to risk the unity of Lebanon or jeopardize its stability."
Lebanon, Mikati added, has been through enough wars and is not willing to be dragged into another one.
"We know what it means to be in a state of war and how many casualties this triggers. We have been through this kind of suffering."
Deciding not to interfere in Syria, Mikati said, is a means of avoiding another civil war in Lebanon.
"We do not want sedition to be exported to Lebanon, but we wish Syria peace and stability."
Mikati stated that the deployment of Lebanese military forces on the borders with Syria was based on a decision by the Supreme Defense Council in the meeting it held last month.
"This decision was met with some criticism in the beginning, but now all parties welcome it. It is normal for any army anywhere in the world to protect the borders of its country."
This, he said, does not mean that Lebanon will in anyway be reluctant to support Syrian refugees.
"This is our duty towards our Arab brethren and we will never fail them."
Mikati denied that he is currently in touch with Syrian president Bashar al-Assad.
"I have known Bashar al-Assad before he became president. Now, he has his responsibilities and I am busy with Lebanon's internal affairs, so we do not contact each other on regular basis."
Al Arabiya