Aridi: Only the minsitry can change the transportation tariffs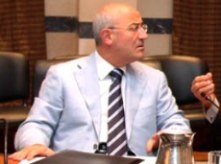 Public Works and Transportation Minister Ghazi Aridi announced on Wednesday that any decision to change the transportation tariffs can only be made by his ministry.
Aridi made the statement after he met with public and private drivers syndicates to discuss the issue of tariffs. His meeting came after some drivers increased the tariffs.
"No one, whether an individual or a syndicate, has the right to increase the transportation tariff in the country," Aridi was quoted as saying by the National News Agency.