Mikati met Hariri in Paris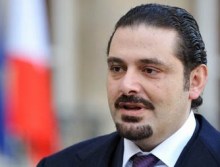 Lebanon Prime Minister Najib Mikati, who is on an official two-day visit to France, met his predecessor, head of the Future Movement MP Saad Hariri, who is in Paris recovering from injuries he suffered while skiing the French Alps last January according to Hariri's press.
In an interview with L'Orient Le Jour published Thursday, Mikati said that he planned to visit Hariri but that the talks would not be political.
Hariri, whose government was toppled by the Iranian and Syrian backed Hezbollah led alliance in January 2011 ,  described Mikati last year  as a Hezbollah's "surrogate."
Hariri told MTV following the collapse of his cabinet that Mikati had betrayed Future Movement by accepting the nomination, specially since he had won the election while running on the Future Movement's parliamentary list in 2009
Hariri's press office also said the Future Movement had also received MP Nuhad Mashnouq, who is presently visiting Paris, and received cables from Bahrain's King Hamad bin Isa al-Khalifa and Turkish Prime Minister Recep Tayyib Erdogan, who both wished him a swift recovery.