Mikati: Sarkozy understands Lebanon position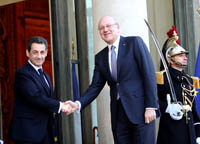 Lebanese Prime Minister Najib Mikati held talks on Friday with French President Nicolas Sarkozy at the Elysee Palace in Paris, LBC TV reported on Friday
The report added that Mikati informed Sarkozy during their meeting about Lebanon's decision "to isolate itself from regional events" in order to maintain stability.
"Sarkozy seemed understanding regarding Lebanon's position and promised to support this stance," LBC quoted Mikati as saying.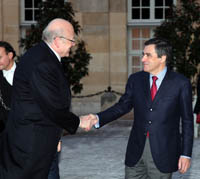 Mikati also met on Friday with his counterpart French PM François Fillon and French head of senate
Mikati who is currently on an official two-day visit to France, said earlier today that the crisis in Syria shouldn't affect Lebanon and focused instead during his discussions with the French business leaders on the future of Lebanon as a gas and oil producer .
"I want to tell you that you are in front of an opportunity for investment in a country that relies on the market economy , respects the private sector, trains qualified work forces, guarantees low taxes, applies banking secrecy and enjoys rotation of political power," Mikati , who was accompanied by Central bank chief Riad Salameh said during a meeting with Mouvement des entreprises de France (MEDEF)
In January, the cabinet endorsed plans to implement legislation that will clear the way for offshore oil and gas exploration, downplaying the risk of conflict with Israel, despite a dispute over the maritime border.
Last August the parliament passed a law setting Lebanon's maritime boundary and Exclusive Economic Zone, as it has previously submitted to the United Nations a maritime map that conflicts significantly with one proposed by Israel.
Lebanon argues its map is in line with an armistice accord drawn up in 1949, an agreement which is not contested by Israel.
The disputed zone consists of about 854 square kilometers and suspected energy reserves there could generate billions of dollars.
Lebanon has been extremely slow in exploiting its maritime resources compared with other eastern Mediterranean countries and especially Israel which has been drilling for years.
The U.S. Geological Survey reported that the Levant Basin, which covers Israel, Syria, Lebanon, Cyprus and the Gaza Strip, contains around 122 trillion Cubic feet of gas and at least 1.7 billion barrels of oil. This will significantly alter the strategic energy picture in the eastern Mediterranean. This could also transform Lebanon's economy and earn it billions of dollars in energy exports and …..hopefully end the blackouts .