West offers words, only, as Syria killing rages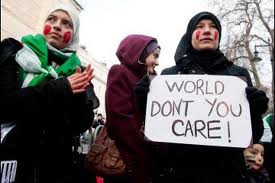 Syrian government artillery barrages killed dozens of civilians in Homs on Thursday, activists said, as President Bashar al-Assad, bolstered by Russian support, ignored appeals from world leaders to halt the carnage.
The United Nations secretary-general condemned the "appalling brutality" of the operation to stamp out the revolt against Assad, and Turkey's ambassador to the European Union warned of a slide into civil war that could inflame the region.
Diplomats from Western and Arab powers, lining up meetings that could mean some decisions soon, condemned Assad in strong language. But having ruled out military intervention, they were struggling to find a way to convince him to step down.
Syria's powerful ally Russia, meanwhile, said no one should interfere in the country's affairs.
In Homs, witnesses said makeshift hospitals were overflowing in besieged opposition areas with the dead and wounded from nearly a week of government bombardments and sniper fire.
Medical supplies and food were running out and, in the streets, some of the wounded had bled to death as it was too dangerous for rescuers to bring them to safety.
The Local Coordination Committees, an opposition group in Homs, put the death toll on Thursday alone as high as 110 by nightfall, though it remains impossible to verify such accounts:
"This number includes three families whose bodies were dug up from under the rubble of their homes, bodies brought to field hospitals and people who died their from their wounds today," the group said in a statement sent to Reuters.
A Syrian doctor, struggling to treat the wounded at a field clinic in a mosque, delivered an emotional plea via YouTube video. Standing next to a bloody body on a table, the man, named only as Mohammed, said to the camera, and to the outside world:
"We appeal to the international community to help us transport the wounded. We wait for them here to die in mosques. I appeal to the United Nations and to international humanitarian organizations to stop the rockets from being fired on us."
U.S. PONDERS AID
Concern was growing in foreign capitals over the plight of civilians.
The United States said it was considering ways to get food and medicine to them – a move that would deepen international involvement in a conflict which has wide geopolitical dimensions and has caused division between world powers.
"I fear that the appalling brutality we are witnessing in Homs, with heavy weapons firing into civilian neighborhoods, is a grim harbinger of things to come," U.N. chief Ban Ki-moon said after briefing the Security Council in New York on Wednesday.
Neighboring Turkey, which once saw Assad as an ally but now wants him out, has said it can no longer stand by and watch. It wants to host an international meeting to agree ways to end the killing and provide aid.
Foreign ministers of the Arab League, which the U.N.'s Ban said was planning to revive an observer mission it suspended last month, are due to meet in Cairo on Sunday.
But in Moscow, Russian foreign ministry spokesman Alexander Lukashevich reiterated that Kremlin view that though the bloodshed was regrettable, a solution was a matter for Syria.
"There is an internal conflict, the word revolution is not being used – it is a not a revolutionary situation, believe me," he said.
Russia and China, which let the United Nations support the air campaign that helped oust Muammar Gaddafi in Libya, provoked strong condemnation from the United States, European powers and Arab governments when they vetoed a resolution in the Security Council last week that called on Assad to step down.
Moscow, for whom Syria is a buyer of arms and host to a Soviet-era naval base, wants to counter U.S. influence and maintain its traditional role in the Middle East.
For both Russia and China, Syria is also a test case for efforts to resist international encroachment on sovereign governments' freedom to deal with rebels as they see fit.
Lukashevich's comments followed remarks on Wednesday from Russian Prime Minister Vladimir Putin, who drew clear lines on a foreign role in the crisis.
"Help them, advise them, limit, for instance, their ability to use weapons but not interfere under any circumstances." the Middle East.
TURKEY FEARS "CIVIL WAR"
French President Nicolas Sarkozy also spoke to Russian President Dmitry Medvedev on Wednesday night and said that despite their differences, it was necessary to maintain pressure on Assad's government so that the repression ended.
In Brussels, Turkey's ambassador to the European Union told Reuters that because the opposition was fragmented and Assad still had support from Syria's middle class, the unrest could descend into full-scale civil war.
Turkey, Syria's largest neighbor, is also concerned that sanctions being imposed on Damascus by the EU and the United States will not succeed in forcing Assad from power, while Iran and Russia provide him with support.
"What we are seeing is horrendous. The result will probably be bloody, and unfortunately the Russians are backing him," Selim Yenel said.
"The regime is not just a person, or one family. It's a big group of people and … they want to hold on to power. That's why we are fearing it is going to turn into a civil war, and this civil war could turn into a regional conflict."
HOMS UNDER FIRE
The Syrian Human Rights Organisation (Sawasiah) said this week's assault on Homs had killed at least 300 civilians and wounded 1,000, not counting Thursday's toll. International officials have estimated the overall death count in Syria since last March at more than 5,000.
There was no comment from the Syrian authorities, who have placed tight restrictions on access to the country and it was not possible to verify the reports of local activists.
The bombardments on Thursday morning hit mainly Sunni Muslim neighborhoods that have been the focus of attacks by the government forces led largely by members of Assad's Alawite religious minority. Such sectarian divisions have come to the surface as killings have increased on either side.
The main street in Baba Amro was strewn with rubble and at least one house was destroyed, according to YouTube footage broadcast by activists from the district who said troops had used anti-aircraft cannon to demolish the building.
The video showed a youth putting two bodies wrapped in blankets in a truck. What appeared to be body parts were shown inside the house.
Hussein Nader, an activist in Baba Amro, told Reuters: "Silence reigns for four to five minutes, then another barrage of tank fire or rockets or mortar rounds comes in."
"Whole houses have come down and we do not know how many more have been killed. They are not advancing and it seems that they are content by continuing to shell Baba Amro until every inhabitant is killed."
In a publication documenting conditions in Homs this week, New York-based Human Rights Watch spoke of possible war crimes:
"This brutal assault on residential neighborhoods shows the Syrian authorities' contempt for the lives of their citizens in Homs," said Anna Neistat of HRW. "Those responsible for such horrific attacks will have to answer for them."
BENGHAZI? OR SARAJEVO?
The uprising against the Assad family's 42-year dynastic rule has evolved from civilian demonstrations to armed insurgency over the past few months. The Assad government contends it is fighting foreign-backed "armed terrorists."
Syria's position at the heart of the Middle East, allied to Iran and home to a volatile religious and ethnic mix, means Assad's international opponents have ruled out the kind of military action they took against Libya's Muammar Gaddafi.
Some commentators compared Homs plight to Benghazi, the Libyan city which was saved by NATO strikes on advancing columns of Gaddafi's troops. Others, grimly, remembered Sarajevo, the Balkan city left to bleed for years while world powers bickered.
In London, a Times editorial said that a conflict in Syria would be longer, messier, more difficult militarily and more complex than Libya. But, it said: "Western governments cannot forever limit their involvement to declarations of impotent fury by foreign ministers. Eventually they must do more."
"If the calls to help the rebels end even with the provision of arms, a threshold will have been crossed into a conflict. The West will have taken sides."
Reuters