Syria crisis: Shelling 'kills dozens' in restive Homs
The Syrian army has launched fresh mortar and rocket attacks in the city of Homs, as the government continues a push aimed at crushing rebel forces.
Activists say 95 people have been killed so far on Thursday. Hundreds have reportedly died since last week.
Homs, Syria's third-largest city, has been a leading focus of unrest in the 11-month uprising against President Bashar al-Assad's rule.
UN chief Ban Ki-moon condemned the "appalling brutality" of the onslaught.
The international community is struggling to find a way to resolve the crisis after Russia and China blocked a UN resolution drafted by Arab and European countries on Saturday.
The assault on Homs, which began late on Friday, is focused on districts that are controlled by rebel forces.
The worst shelling has been in the Baba Amr district, where activists say 50 people were killed on Wednesday alone.
The BBC's Jim Muir, in neighbouring Lebanon, says there are armed rebels in the area, but also many civilians.
Ali Hazuri, a doctor in Baba Amr, told AFP news agency that the intense bombardment had resumed early on Thursday after an overnight lull.
"The shells are raining down on us and regime forces are using heavy artillery," he said.
Syria restricts access to foreign media and casualty figures cannot be independently verified.
The army says it is fighting foreign-backed armed groups. Army defectors have joined rebel forces in Homs and other parts of Syria in recent months.
Government troops have stepped up operations at Syria's borders in an effort to stop arms reaching the rebels, reports say.
Continuing army operations against rebels are also being reported in the northern city of Idlib, the southern province of Deraa, and the town of Zabadani, north of Damascus.
The Local Co-ordination Committees, a network of anti-government activists monitoring the violence, say a total of 105 people have been killed around the country, including 95 in Homs.
Meanwhile Germany announced it was expelling four diplomats from the Syrian embassy in Berlin.
Foreign Minister Guido Westerwelle said on Thursday that the move followed the recent arrest of two people suspected of spying on Syrian opposition figures in Germany.
'Missed chance'
Speaking at the UN in New York on Wednesday, Mr Ban said the failure to agree a UN resolution on Syria had encouraged Damascus "to step up its war on its own people".
He added: "I fear that the appalling brutality we are witnessing in Homs, with heavy weapons firing into civilian neighbourhoods, is a grim harbinger of worse to come."
He also said the Arab League was hoping to revive a monitoring mission in Syria, which collapsed last month amid the escalating violence.
Earlier, the US rejected Russian calls for talks between the Syrian government and the opposition.
White House spokesman Jay Carney said President Bashar al-Assad had missed the opportunity for dialogue.
Russian Foreign Minister Sergei Lavrov, who visited Damascus on Tuesday, had said that President Assad was ready to talk with "all political forces" to end the violence.
But his comments were dismissed by opposition leaders, who want Mr Assad to stand down.
Mr Carney said the US planned to meet its international partners to discuss ways to stop the violence and provide humanitarian aid.
The UN resolution vetoed by China and Russia backed an Arab League peace plan that would have seen President Assad hand power to a deputy to oversee a transition.
Russia said the proposal amounted to regime change.
Human rights groups and activists say more than 7,000 people have been killed by Syrian security forces since the uprising began last March.
The UN stopped estimating the death toll in Syria after it passed 5,400 in January, saying it was too difficult to confirm.
Mr Assad's government says at least 2,000 members of the security forces have been killed.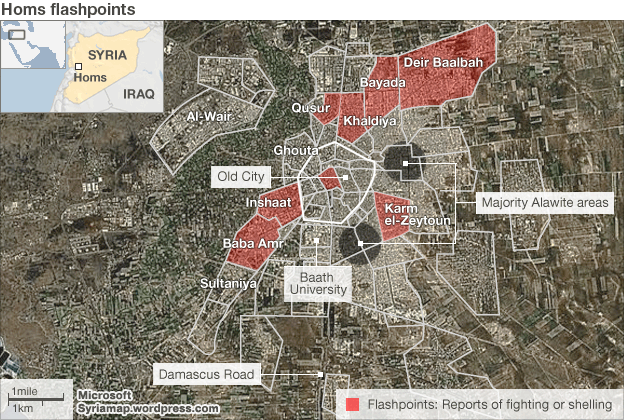 BBC