Senior al-Qaeda leader killed in drone strike in Pakistan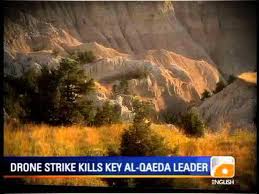 A senior militant, believed to be the head of al-Qaeda in Pakistan, was killed in a US drone strike early on Thursday morning, according to security officials.
Badar Mansoor had been a link man between militant groups, running a training camp and sending volunteers to fight across the border in Afghanistan.
Intelligence officials said two missiles were fired at a house in Miranshah, the main town of North Waziristan, killing as many as five militants.
Identifying figures killed in drone strikes is notoriously difficult and can take several weeks. However, a senior Pakistani official told the AFP news agency that Mansoor was among the dead.
"He died in the missile attacks overnight in Miranshah. His death is a major blow to al-Qaeda's abilities to strike in Pakistan," he said.
Thursday's attack was the second since Barack Obama confirmed the existence of a covert drones programme directed against extremists in Pakistan's border region.
Mansoor came from Pakistan's largest province, Punjab, and moved to North Waziristan in 2008 where he rose to become a senior figure in the Pakistan Taliban, leading a band of about 200 fighters.
He was blamed for planning numerous suicide attacks, including several in Karachi and one directed against the minority Ahmadi community that killed more than 90 people in Lahore in 2010.
He was a close associate of Ilyas Kashmiri – the then head of al-Qaeda in Pakistan – and local reports suggest the two discussed setting up Laskhar-e-Osama to launch attacks across the country following the death of Osama bin Laden last year.
Kashmiri carried a $5m price on his head and was killed in a drone strike last June.
Since then, many analysts believe Mansoor took over his post as al-Qaeda chief in Pakistan.
Rahimullah Yusufzai, a senior analyst in the north-western town of Peshawar, said the drone strikes were eating away at al-Qaeda's capacity in the country.
"Al-Qaeda is being weakened because they are reliant on the protection of the local leaders, who are being killed," he said.
As well as Kashmiri, drones are credited with the 2009 killing of Baitullah Mehsud, the leader of the Pakistan Taliban.
But the programme is blamed for killing hundreds of civilians.
The Bureau of Investigative Journalism says as many as 535 civilians, including more than 60 children, have been killed in drone attacks since Obama took office.
Telegraph.UK.