Lavrov says seeks peace in Syria as Homs bombarding resumes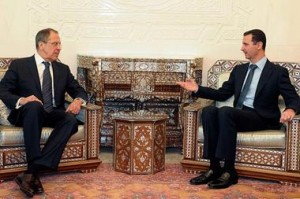 Russia's foreign minister said he told Syrian President Bashar al-Assad on Tuesday that Moscow wanted to see peace in the Arab world as Syrian forces resumed a bombardment of Homs, a hub of protest and rebellion against Assad's rule.
The message from one of Syria's few allies came three days after a Russian-Chinese veto of an Arab-backed U.N. resolution on Syria caused outrage and fired Western resolve to impose more sanctions to cripple Assad economically and oust him from power.
Foreign Minister Sergei Lavrov spoke during talks with the Syrian leader in Damascus held, his ministry said before he arrived along with Russia's foreign intelligence chief, because of an urgent need for democratic reforms to defuse the conflict.
Lavrov told Assad, according to Russia's RIA news agency: "Every leader of every country must be aware of his share of responsibility. You are aware of yours. It is in our interests for Arab peoples to live in peace and agreement."
Lavrov, whose government wields rare leverage in Syria as a major arms supplier to Damascus, said Assad assured him he was committed to halting bloodshed by both sides and that he was ready to seek dialogue with all political groups in Syria.
Opposition activists have dismissed similar pledges made by Assad in the past because he continued trying to crush protests with tanks and troops and branded his foes as "terrorists."
Russia's foreign ministry said Lavrov and Foreign Intelligence Service chief Mikhail Fradkov had gone to Damascus because Moscow wanted to see "the swiftest stabilization of the situation in Syria on the basis of the swiftest implementation of democratic reforms whose time has come."
Syrian state television showed hundreds of people gathering on a main Damascus highway to welcome Lavrov. They were waving Syrian, Russian and Hezbollah flags and held up two Russian flags made out of hundreds of red, white and blue balloons.
BOMBARDMENT OF HOMS RESUMES
Opposition activists said the fresh assault on Homs came after 95 people were killed on Monday in the city of one million, Syria's third biggest. More than 200 were reported killed there by sustaining shelling on Friday night.
"The bombardment is again concentrating on Baba Amro (district of Homs). A doctor tried to get in there this morning but I heard he was wounded," Mohammad al-Hassan, an activist in Homs, told Reuters by satellite phone. "There is no electricity and all communication with the neighborhood has been cut."
A further 19 people were killed and at least 40 wounded in Tuesday's barrage, activists said. Some reported fighting between army defectors and government forces trying move into areas the rebels hold in Homs.
Syria maintains the military is fighting "terrorists" in Homs bent on dividing and sabotaging the country. State media said "tens" of terrorists and six members of the security forces were killed in clashes there on Monday.
Moscow and Beijing were the only members of the 15-member U.N. Security Council to vote against the resolution backing an Arab League call for Assad to yield power and start a political transition. The double veto prompted unusually undiplomatic Western criticism, which Lavrov said verged on "hysteria."
European Union states followed up their denunciation of the veto by preparing a new round of sanctions on Syria, EU diplomats said on Tuesday, with the focus on central bank assets and trade in precious metals, gold and diamonds.
Prime Minister Tayyip Erdogan, a former ally who has turned against Assad, described the U.N. vetos as "a fiasco for the civilized world" and said Turkey was preparing a new initiative with those who oppose the Syrian government.
RUSSIAN LEVERAGE
Russia, seeking to retain a foothold in the Middle East centered on its long-standing military and political ties with Damascus, may be torn between trying use its rare leverage in Syria to shore up Assad, and seeking his exit.
Arab League Secretary-General Nabil Elaraby told Reuters he spoke to Lavrov on Monday and said the foreign minister would present an initiative to Damascus. Asked if he thought it could end the crisis, he replied: "They believe so."
Russia may try to buy time by counseling the government to make some concessions and reduce the bloodshed, in one view.
"I think that now, after Russia imposed a veto, Lavrov (is) travelling to tell Assad that we did everything possible," said Fyodor Lukyanov, editor of the journal Russia in Global Affairs.
"Now the main task for Lavrov is to tell Assad that if there is no visible change in Syria, then regardless of the Russian position he should be bracing for external military measures," Lukyanov said.
Russia has argued that Saturday's draft U.N. resolution was one-sided and would have amounted to taking the side of Assad's opponents in a civil war. China's veto of the measure followed Russia's lead, analysts and diplomats said.
Catherine al-Talli, a senior member of the opposition Syrian National Council, said the military assault on Homs appeared to be designed to show Moscow that Assad was in control and could serve until his term expires in 2014.
"Assad needs to look strong in front of the Russians. He has not managed to control Homs since the eruption of the uprising (11 months ago) and now that he has seen that he faces no real threat from the international community, it appears that he wants to finish off the city," Talli said.
Activists and residents of areas near the border town of Zabadani, where army defectors have a foothold after Assad's troops withdrew under a ceasefire, said the government forces renewed shelling on Tuesday morning.
At least nine people have been killed in bombardment of the town since Monday, activists said.
US EMBASSY SHUT, EUROPEAN AMBASSADORS RECALLED
Syrian television said a committee charged with drawing up a new Syrian constitution – one of several political reforms promised by Assad – had completed its work on Tuesday.
Assad has said parliamentary elections will be held when the constitution is approved, but has also pledged to eradicate "terrorists" he blames for the violence.
Syria's opposition, which rejected a Russian invitation for talks with Syrian officials in Moscow, says Assad's promises of reforms have been discredited by his continued crackdown on protests, in which the U.N. says 5,000 people have been killed.
The United States shut its embassy and said all staff had left Syria due to worsening security in the country, which has also been hit by suicide bombings in Damascus.
France, Italy, Britain, Belgium and Spain recalled their ambassadors from Syria. Japan said it was considering reducing the number of its diplomatic staff in Damascus.
U.S. President Barack Obama said that, however hard Western countries are prepared to lean on Assad diplomatically, they still had no intention of using force to topple him, as they did against Muammar Gaddafi in Libya last year.
"I think it is very important for us to try to resolve this without recourse to outside military intervention. And I think that's possible," he told NBC's Today show.
A chorus of European officials condemned Russia and China over their veto in terms unusually harsh by diplomatic norms and said they would bear responsibility for future bloodshed. U.S. Secretary of State Hillary Clinton called the veto a "travesty."
Qatari Prime Minister Sheikh Hamad bin Jassim, who heads the Arab League's ministerial committee on the Syrian crisis, told Al Jazeera he was shocked by Moscow and Beijing's decision and called for "clear steps to stop the bloodbath in Syria."
Clinton said on Sunday the United States would work with other nations to try to tighten sanctions against Assad's government and deny it arms in the absence of a U.N. resolution.
Iran, Syria's other main ally and itself the target of new U.S. sanctions over its nuclear program, said it was playing no role in the continuing bloodshed in Syria, denouncing what it called foreign meddling in the affairs of Damascus.
"We are absolutely not interfering in the internal affairs of Syria, and we consider the interference of other countries in Syria's internal issues as a danger to the security and stability of the country," Foreign Ministry spokesman Ramin Mehmanparast said on Tuesday.
He was responding to accusations from the Syrian Muslim Brotherhood – itself targeted when Assad's father and predecessor smashed an Islamist insurrection in 1982 – that Tehran was providing guns and ammunition to Assad now.
Reuters