Jumblatt slams Russia, China veto, calls for aiding Syrian refugees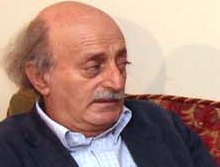 Progressive Socialist Party leader MP Walid Jumblatt slammed on Monday the double veto used by Russia and China to block the UN security council resolution condemning violence in Syria and called it a "slap in the face of the Syrian people,"
"This veto is slap in the face of the Syrian people who are demanding their legitimate rights of freedom and democracy, and is an insult to the Syrian revolution which wants to transform from dictatorship to democracy," Jumblatt said in his weekly column in PSP's al-Anbaa newspaper
He urged the Lebanese government to "aid the Syrian refugees" instead of staging "airborne military parades in the northern border areas."
Jumblatt said the rare double veto "destroyed what was left of the Arab League's initiative which tried to find a political solution to the crisis in Syria."
The Arab solution would put an end to autocracy and help Syria transit to "pluralism, democracy and diversity, away from the fake promises of reform which have not and will not be fulfilled," Jumblatt stressed
"The policy of disassociation is maybe useful at the Arab and international forums due to the sensitivity of Lebanon's stance towards the Syrian crisis, but it is not appropriate in dealing with the Syrian refugees," Jumblatt noted in reference to the Lebanese government policy towards the Syrian refugees.
He stressed that "it is past time for the (Lebanese) government authorities to acknowledge their existence, as they are afflicted people who need help and all kinds of medical, social and humanitarian aid."
Jumblatt stressed that such a step "would be better than the airborne military parades in the northern border areas," wondering "have we forgotten that the Syrian people had hosted tens of thousands of Lebanese refugees during the (2006) Israeli aggression against Lebanon?"
The Lebanese army deployed on Saturday in the northern border area of Wadi Khaled after media outlets reported that members of the rebel Free Syrian Army were present in the region.
"On Saturday morning the military carried out three airdrops in al-Rami village near Wadi Khaled and searched the area for hours, looking for Syrian rebels " a military source told LBC.
Last week, the UNHCR said in its weekly report on the situation of Syrian refugees in Lebanon that 6,375 refugees have registered with the body and the Higher Relief Committee since the 11-month-old uprising began. They are "mostly residing with host families in difficult circumstances," the report said.
Jumblatt went to Moscow last Wednesday and met with the top Russian authorities to try and convince them not to cast a veto against the UN Security council resolution which was backed by the Arab League
Orders from Syria
March 14 MP Mouin Merhabi said last Saturday that the Lebanese army "was deployed along the Lebanese-Syrian border on orders from Damascus to President Michel Suleiman, Prime Minister Najib Mikati and Army Commander Jean Kahwaji.
During an interview with LBC TV, Merhabi expressed his regret over "the way the army troops were dispatched "following orders from Syria. He said when the [Lebanese] residents who were wounded in these area by the Syrian army during its incursions into Lebanese territory the Lebanese government did not take any action in deploying the army to protect them ( the Lebanese citizens )."
Merhabi added that there is "a plan between the [Lebanese] army [deployed] in the [northern region of] Akkar and the Syrian forces to arrest and expel the Syrian refugees who are fleeing to Lebanon."
The Lebanese government is currently dominated by the Iranian and Syrian backed Hezbollah lead alliance which is supporting the Syrian regime in its brutal crackdown against the pro-democracy protests in Syria,
The UN stopped counting since last November when the death toll in Syria reached 5400. Many analysts estimate the death toll in Syria since the uprising began last March is in excess of 10,000.
March 14 MP Ahmad Fatfat called media reports about the presence of members of the Free Syrian Army – defectors from the Syrian army who are fighting the regime – in north Lebanon "a big lie " adding "this was confirmed by the Lebanese army"