Syria: After U.N. vote fails, now what?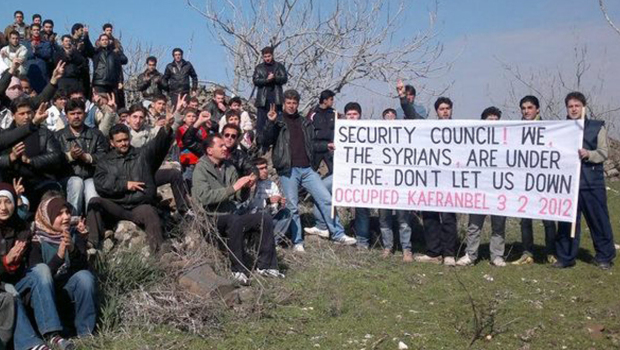 President Barack Obama issued a remarkably strong statement Saturday condemning the Syrian regime's "unspeakable assault" against its own people, following Friday's attack by Syrian artillery on the city of Homs, which killed 200 people and wounded hundreds of others.
The offensive appears to be the bloodiest episode in the nearly 11-month-old uprising, activists said Saturday. The U.N. says more than 5,400 people have been killed over almost 11 months in a government crackdown on civilian protests. ( Note: The UN stopped counting since last November )
The Syrian government denied reports of Friday's massacre, with Syrian TV charging incitement by "armed groups."
"Thirty years after his father massacred tens of thousands of innocent Syrian men, women, and children in Hama, Bashar al-Assad has demonstrated a similar disdain for human life and dignity," Mr. Obama said in a statement released by the White House today. "Yesterday the Syrian government murdered hundreds of Syrian citizens, including women and children, in Homs through shelling and other indiscriminate violence, and Syrian forces continue to prevent hundreds of injured civilians from seeking medical help. . . .
"I strongly condemn the Syrian government's unspeakable assault against the people of Homs and I offer my deepest sympathy to those who have lost loved ones. Assad must halt his campaign of killing and crimes against his own people now. He must step aside and allow a democratic transition to proceed immediately."
Following yesterday's peaceful demonstrations in Syria marking the 30th anniversary of the Hama massacre, President Obama said, "We owe it to the victims of Hama and Homs to learn one lesson: that cruelty must be confronted for the sake of justice and human dignity.
"Every government has the responsibility to protect its citizens, and any government that brutalizes and massacres its people does not deserve to govern. The Syrian regime's policy of maintaining power by terrorizing its people only indicates its inherent weakness and inevitable collapse. Assad has no right to lead Syria, and has lost all legitimacy with his people and the international community."
The president said the international community must work to protect the Syrian people from this "abhorrent brutality," and envisioned "a Syria without Assad" in which all Syrians, including minorities, are subject to and protected by the rule of law.
"The United States and our international partners support the Syrian people in achieving their aspirations and will continue to assist the Syrian people toward that goal," Mr. Obama said. "We will help because we stand for principles that include universal rights for all people and just political and economic reform. The suffering citizens of Syria must know: we are with you, and the Assad regime must come to an end."
This is strong language, says CBS News Washington bureau chief Chris Isham, instructing President Assad that he "must" stop killing his own people and that he "must" step down.
But what is unclear is: "Or what?"
"What will the U.S. will do if Assad does not (as he most certainly won't) comply?" said Isham. "Assad has shown that he will resort to any means necessary to stay in power."
With the U.S. having ruled out military intervention, and the U.N. Security Council failing to approve a resolution seeking Assad's ouster, the enforcement mechanism – beyond sanctions – is now up in the air.
On Saturday Russia and China vetoed a U.N. Security Council resolution backing an Arab League plan that calls for President Bashar Assad to step down.
The other 13 members of the council, including the United States, Britain and France, voted in favor of the resolution aimed at stopping the ongoing violence in Syria.
It was the second time in four months that Russia and China used their veto power to block a Security Council resolution condemning the violence in Syria.
The rare double-veto was issued following days of negotiations aimed at overcoming Russian opposition to the draft resolution. Several European envoys said before the session that they felt compelled to call for the vote despite Russia's attempts to seek a delay because they were concerned about the escalating violence by Assad's regime.
After the vote, U.S. Ambassador Susan Rice, in unusually strong language, said the United States was "disgusted" by the outcome.
"For months this council has been held hostage by a couple of members," Rice said. "These members stand behind empty arguments and individual interests while delaying and seeking to strip bare any text that would pressure Assad to change his actions.
"This intransigence is even more shameful when you consider that at least one of these members continues to deliver weapons to Assad," she added, referring to Russia, a major arms supplier for Syria.
CBS