Russian FM: "We Are not Friends or Allies of Assad."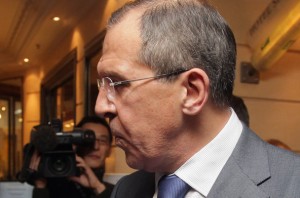 MUNICH — With the United States and the European Union imposing unprecedented economic sanctions against Iran, and the lingering threat of an Israeli attack on Iran's nuclear facilities, it was expected that Iran would be a big issue here at the annual Munich Security Conference that opened on Friday.
Hardly a word.
This was despite the presence of U.S. Secretary of State Hillary Rodham Clinton, who was expected this weekend to try to persuade her Russian counterpart, Sergey Lavrov, to support more sanctions against the Islamic Republic, but behind the scenes.
But what hit the top of the agenda here was Syria.
In her speech to the conference, Mrs. Clinton said she was trying to win wide support from the international community for the U.N. proposal, initiated by the Arab League, to end the violent crackdown by President Bashar al-Assad's security forces and arrange a transition of power.
Hours later, Russia and China vetoed that proposal. But before that happened, Mr. Lavrov delivered a rather polemical speech. The question and answer period was dominated by Syria.
Why, asked participants, wouldn't Russia support the Arab League proposals? Why was Russia still supplying arms to the Syrian regime? Why was Russia supporting President Assad?
Mr. Lavrov took the questions in his stride. The veteran diplomat said from early on Russia had supported calls by the Syrian people for change.
But while it was all very well to ask the security forces to stop the violence and return to their barracks, he said, what about asking the armed groups who were causing mayhem to disarm? They were not being criticized at all, Mr. Lavrov said.
As for Russia supporting the Assad regime, Mr. Lavrov denied that. "We are not friends or allies of Assad," he said — despite Moscow's decades-long political and military support of Damascus.
"Whether we sold weapons to Syria did not change the balance in the Middle East. Whatever we sell to Syria does not affect the international balance," Mr. Lavrov said.
Senator John McCain was having none of it. "It's time to stop the talking. It's time to demand Assad's departure, and now," he said. The audience applauded.
After the Russian and Chinese veto, Mrs. Clinton held a press conference. She said she had spoken to Mr. Lavrov. Then, she asked, "Are we going to be complicit in the violence and bloodshed in Syria?"
Reports circulated Saturday night that Mr. Lavrov would head to Damascus next week for talks.
IHT