Chavez: Iran sanctions have hurt joint auto venture in Venezuela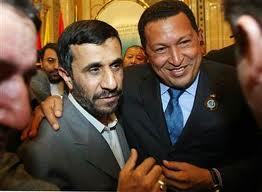 Venezuelan President Hugo Chavez said Saturday that international sanctions on Iran are impeding some of his country's business deals with Tehran.
The U.S. and European governments have imposed sanctions seeking to pressure Iran over its nuclear program. Chavez said the sanctions have affected a jointly run auto assembly factory in Venezuela.
"We've had some problems due to the blockade on Iran, now that we have an Iranian-Venezuelan factory," Chavez said. "It's a problem to bring the parts… even for us to pay the due amount in dollars" to an Iranian company.
He said production at the factory has declined due to a lack of parts.
Chavez has close ties with Iran and has defended its nuclear energy program. While the U.S. and its allies accuse Iran of using the program to develop nuclear weapons, Chavez has joined Iran in saying there is no proof.
The Venezuelan leader has deepened trade with Iran, enlisting Iranian companies to help build public housing in the country and also launching joint ventures including a tractor factory and dairy plants.
Last year, the U.S. government imposed sanctions on Venezuela's state oil company, Petroleos de Venezuela SA, saying it had delivered at least two cargoes of refined oil products worth about $50 million.
Those sanctions, however, have had little impact. The sanctions bar the Venezuelan oil company from any U.S. government contracts and from export licenses for sensitive technology, but don't prevent it from continuing to sell oil to the United States.
WP