Islamists call for boycotting Russian, Chinese goods
A major Islamic Movement called for boycotting the Russian and Chinese goods in protest of their veto of a Security Council resolution on the Syria crisis, a statement issued on Sunday at the movement official website stated.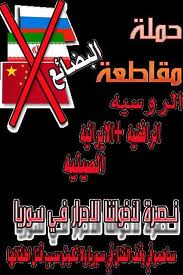 In Jordan , Muslim Brotherhood's leader Hammam Saeed accused Russia and China of participating in killing, and crackdown the Syrian people uprising.
"Russia and China decision should not pass without a popular action against their supportive policies with the Syrian regime against civilians" the statement stated.
On Saturday, Russia and China vetoed a UN Security Council resolution condemning the Syrian government's deadly crackdown despite reports by Syrian activists that troops overnight had killed hundreds of civilians in the city of Homs.
Thirteen countries voted for the resolution proposed by European and Arab nations to give strong backing to the Arab League's plan to end the violence in Syria that has claimed thousands of lives across the country since March 2011.
Saeed described the crackdown, which the UN say has killed more than 10,000 people since democracy protests broke out in March last year, as "almost the worst in recent history." (Note : the UN stopped counting last November …the real count according to analyst exceeds 10,000).