U.S. seeks to allay Russia concerns on UN plan on Syria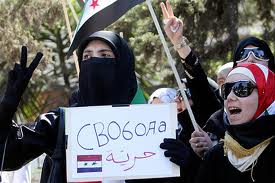 The United States is seeking to overcome Russian objections to a proposed U.N. resolution against Syrian President Bashar al-Assad by allaying concerns it could open the door to a Libya-style military intervention in Syria, a senior U.S. official said on Monday.
Washington hopes to convince Moscow not to stand in the way of the Arab League's initiative, to be presented to the Security Council in New York on Tuesday, calling for Assad to transfer power to help resolve a bloody, 10-month-old crisis in Syria.
It remained unclear whether Russia, one of Syria's few allies, would cast a veto or abstain when a vote on the European-Arab-drafted resolution is taken as early as this week.
Russia has accused the United States and other NATO countries of distorting a March 2011 council resolution on Libya to launch a bombing campaign that helped rebels topple the government of Muammar Gaddafi last year.
U.S. diplomats are now trying to convince Moscow that the objective of the U.S.-backed measure on Syria is not to justify future military action to oust Assad but instead to show international solidarity with an Arab-led political solution to end his bloody crackdown on the opposition.
"We're hoping that Russia will listen to those in the region," the U.S. official told Reuters. "We're trying to convince the Russians that investing in Assad is bad for them, and I think they're coming around to that. Assad is falling."
But the official also said that even as the United States focused on a diplomatic path, it had no intention of taking the military option off the table altogether, noting that the goal remains "a peaceful political transition."
Another senior administration official voiced doubt about the prospect that Russia's new proposal for mediating Syria crisis talks would go ahead, since the Syrian opposition "has already reportedly rejected the idea." However, Assad's government has accepted Moscow's offer.
STREET BATTLES
The diplomatic push came as street battles raged at the gates of Damascus, with Assad's troops seeking to consolidate their grip on suburbs that rebel fighters had seized.
The White House said countries needed to accept that Assad's rule was doomed and stop protecting him in the Security Council.
While insisting Assad was becoming "more and more desperate," the first official acknowledged that the opposition remained militarily fragmented despite recent gains and was not ready to mount a Libya-style rebel campaign.
Washington and its allies have imposed sanctions but have shown no appetite for a military role in Syria, a key ally of U.S. foe Iran and long a pivotal country in the Arab world.
Russia and China vetoed a European-drafted resolution in October that condemned Syria and threatened it with sanctions.
The new draft resolution, obtained by Reuters, calls for a "political transition" in Syria. While it does not seek military action or U.N. sanctions against Syria, it does say that the Security Council could "adopt further measures" if Damascus does not comply with the terms of the resolution.
Russia has not explicitly threatened to veto the resolution, but has said the draft is unacceptable in its present form.
Russia may feel that abstaining from a vote on the draft resolution, which would enable it to pass, would be tantamount to tacitly supporting the ouster of Assad, whose government is one of the Russian arms industry's top customers.
Analysts say Russian Prime Minister Vladimir Putin – who is running again for president and bitterly criticized the council resolution authorizing the NATO campaign in Libya, which Russia let pass by abstaining – wants to look firm in the face of Western pressure.
CT/Reuters