Jumblatt slams Aoun over attacking Lebanon martyrs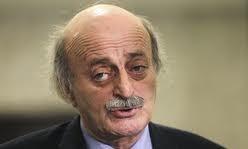 Progressive Socialist Party leader MP Walid Jumblatt slammed on Monday Free patriotic Movement leader MP Michel Aoun ( without naming him ) for attacking the the country's martyrs.
In his weekly editorial in the al-Anbaa magazine he wrote : "All political sides should exercise some humility and return to the national dialogue, which is the only way to protect Lebanon during this critical stage."
"Is it acceptable that martyrs be attacked with complete disregard for the dead? Is it acceptable that the cause for which they died for be undermined?" Jumblatt added .
Aoun attacked on Friday the entire political system in Lebanon.
He also attacked March 14 by saying "that the anti-Syrian figures who were assassinated following the withdrawal of Syrian forces from Lebanon in 2005 are "falsely" called "martyrs."
"This labeling is false… anyone [of them] could have been killed for reasons like cheating on his wife." He said
The FPM leader also labeled some "living martyrs" as "living thieves" for their "negative history in Lebanon".
Several Lebanese politicians and key figures who opposed the Syrian tutelage in Lebanon were murdered following the 2005 Syrian withdrawal from the country.
Aoun also criticized Jumblatt over the issue of allocation of benefits to residents who were displaced by the 1975-1990 civil war.
Aoun who who was defeated by the Syrian army spent 15 years in exile in France . He returned to Beirut in 2005 shortly after the withdrawal of Syrian troops from Lebanon. Following his return he formed an alliance with the Iranian and Syrian-backed Hezbollah and ever since he has been a staunch ally of Syria.
Jumblatt reminded Aoun that he was able to return from exile in Paris because of the martyrs that he attacked .
"Wasn't the blood of these martyrs that paved for some the return from exile "
Blackouts
Jumblatt also slammed the recent power cuts in the country.
"Is it possible that Lebanese citizens are deprived of electricity… because of the unjustified moodiness of a minister who is evading financial facilities from Arab funds which could contribute to resolving this big electricity problem?"
Aoun's son-in-law Energy Minister Gebran Bassil recently said in response to continued electricity problems and protests that have erupted against him that his work is being obstructed and that the situation of the sector will worsen.
Cedar Revolution
Jumblatt also decried Culture Minister Gaby Layyoun's refusal to recognize the Cedar Revolution, and said : "Is it possible to deny Lebanon's history as the minister did?"
"Does a difference in opinion eliminate historic facts? Has the political class reached such a low level that it would seek to erase pivotal historic and political moments and replace them with fictitious heroics?" Jumblatt wrote.
Like Bassil , Layyoun represents FPM in the cabinet
Syria pulled out its troops from Lebanon following the eruption of the Cedar Revolution on March 14 2005, one month after former PM Rafik Hariri was assassinated