62 killed in Syria as Arab League heads to UN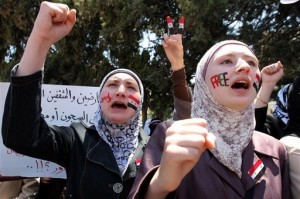 Beirut , Lebanon – Arab League chief Nabil al-Arabi said he would brief the United Nations Security Council on a plan to end 11 months of bloodshed in Syria, which claimed another 62 lives on Thursday.
Al-Arabi and Qatari Prime Minister Hamad bin Jassim, who heads an Arab committee on Syria, would seek to rally support for the plan among the council's member countries at a meeting set for Monday in New York.
The UN Security Council plans to meet Monday with the Arab League on the Syrian crisis, hoping that the league's presentation of a plan to defuse the situation will help break its own months-long stalemate.
The council has been unable to take action on the Syrian crisis, ongoing since last March, due to opposition from China and Russia – Damascus' key allies.
On Thursday, 62 people were killed, among them 10 children, most of whom were from the central province of Homs, activists in northern Lebanon told dpa.
'The regime has committed a massacre in Homs,' Omar Homsi, a Syrian activist told dpa by phone from the restive province.
'Mothers and their children were killed by the savage shelling on the city,' he said.
They added that 600 people were detained by government forces in the besieged city of Hama, while 200 were rounded up in Douma, an area in a Damascus suburb.
Meanwhile, the Iranian state news Agency IRNA said late Thursday that eleven pilgrims have been kidnapped in Syria.
'According to our information, 11 Iranian pilgrims travelling by road to Damascus were kidnapped by an unknown group,' said foreign ministry spokesman Ramin Mehmanparast who was quoted by IRNA.
In a similar incident in late December, seven Iranian engineers were kidnapped in the Homs region of central Syria, a hub for anti-regime protests.
The Iranian statement came shortly after the Syrian opposition posted a video on their websites, showing four Iranian nationals admitting to helping the regime in their crackdown on dissidents in Homs.
The Syrian opposition have accused Iran, Syria's main ally in the Arab world, of aiding the regime's crackdown on dissidents since the uprising started in mid-March 2011. The United Nations estimates that more than 5,400 people have been killed in Syria since the uprising erupted in mid-March.
UN human rights chief Navi Pillay said that the United Nations could not keep track of the death toll in Syria's due to the daily escalation of violence.
'Some areas are totally closed such as parts of Homs, so we are unable to update that figure,' she told reporters in New York.
Arab foreign ministers at the weekend called upon Syrian President Bashar al-Assad to delegate his powers to his deputy.
They also proposed an interim government – with members of the opposition included – to prepare the way for parliamentary and presidential elections.
Damascus dismissed the proposals as a violation of national sovereignty.
Al-Arabi Thursday renewed his call for the Syrian government to stop further acts of violence against opposition protesters.
He said an Arab observer mission, sent to Syria in December, was working 'under very difficult circumstances.'
The observers Thursday toured Irbin, an area on the outskirts of Damascus, where angry residents demanded they leave, according to activists.
The Syrian opposition has accused the observers, whose mandate was extended this week by another month, of giving al-Assad's regime a diplomatic cover to pursue a crackdown on protesters and rebels.
Government forces Thursday cracked down on flashpoint areas in Hama, Homs and Douma.
'Among the dead were 30 who were killed in Homs, 10 of whom were children whose ages vary between 2 to 6 years old,' Ahmed al-Hamawi, a Syrian activist based in Northern Lebanon.
Activists also said that Syrian security forces shelled Douma Thursday and carried out random arrests.
'Syrian security forces were dragging up young men and pushing them inside military trucks,' a resident, who lives in the area of Douma, told dpa by phone.
'I saw boys whose ages do not exceed 15 years blindfolded inside the trucks as they drove past my house,' he added.
The area of Douma has in recent months become a hub for anti-government protests and a hideout of army defectors.
A joint army and police convoy was Thursday ambushed near the town of Khirbet Ghazaleh on the Syrian-Jordanian border, reported the opposition Syrian Observatory for Human Rights.
Four soldiers were killed and five injured in the attack, added the London-based observatory.
Meanwhile, the Syrian state news agency SANA said an army colonel was Thursday shot dead by 'armed terrorists' outside his house in Homs.
M&C