Moscow can do no more for Syria's Assad, Kremlin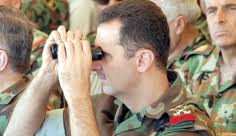 Moscow can do no more for Syrian President Bashar al-Assad, a top Kremlin aide said on Monday, opening the way to a shift in Russia's position after 10 months of bloodshed.
Russia has resisted pressure to call for Assad's resignation and, with China, blocked a Western-crafted U.N. Security Council resolution that would have condemned a crackdown that has killed thousands of Syrians.
But Mikhail Margelov, a senior lawmaker who is President Dmitry Medvedev's special Africa envoy and has engaged in diplomacy over Syria, said Russia's diplomatic 'arsenal' was now exhausted.
"(Our) veto on the U.N. Security Council resolution was the last instrument allowing Bashar al-Assad to maintain the status quo in the international arena," Margelov was quoted as saying by the state-run Itar-Tass news agency.
The veto "was a serious signal to the president of Syria from Russia. This veto has exhausted our arsenal of such resources," said Margelov, who is chairman of the international affairs committee in Russia's upper house of parliament.
Assad "should read this position unequivocally: reforms, an end to violence, free elections. This is what the Syrian leadership should do immediately, today," he said.
Moscow has repeatedly urged Assad to implement reforms faster but has opposed sanctions as a form of pressure.
Russia presented its own draft resolution to Security Council partners last year, but Western diplomats have accused Russia of failing to negotiate seriously in a bid to buy time for Damascus.
Pressure on Assad has increased after the Arab League called on him to step down in favor of a unity government. Syria has rebuffed the demand and Russia has not commented on it.
The Russian Foreign Ministry walked a thin line on Monday to avoid endorsement of the Arab League plan while still recognizing the league's mission to Syria as vital to dialogue between the authorities and protesters.
The ministry made no direct comment on the call for Assad to step down, and Foreign Minister Sergei Lavrov did not comment on it in brief remarks to journalists.
Analysts say Russia will hold out as long as possible before any climbdown on Syria, which it has used to emphasize its opposition to interference. It accused Western nations of violating the mandate of a Security Council resolution which authorized an air campaign that helped Libyan rebels oust Muammar Gaddafi last year.
"The Russian leadership is disappointed by the deadlock in Syria. We don't see any way out of the turmoil," said independent analyst Yevgeny Volk.
"Russia's position will remain ambiguous, (but) … Russia is moving towards recognizing that Assad is not the person to rule Syria and that Syria needs some change, but Russia needs some guarantee its interests will be respected."
Apart from representing hundreds of millions of dollars in arms sales, Syria also hosts a Russian naval maintenance facility on its Mediterranean coast.
Reuters