Lebanon FM 'Confident' Imam Sadr Still Alive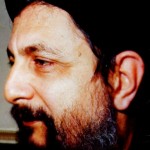 Lebanon Foreign Minister Adnan Mansour said on Monday following his return from a trip of several days to Libya he is confident that Imam Moussa al-Sadr and his two companions who went missing in Tripoli over 33 years ago are still alive.
"The Libyan leaders expressed their readiness to closely follow up on the case," Mansour said in an interview with NBN television.
"We are confident that the three are still alive," Mansour added
A Lebanese delegation headed by Mansour arrived in Tripoli last Wednesday to discuss the the mysterious disappearance of Shiite Imam Moussa al-Sadr who went missing upon arrival in Tripoli in 1978.
Sadr, a charismatic spiritual leader, had reportedly been officially invited to Libya during the rule of Moammar Gadhafi in 1978 along with an aide and a journalist to negotiate an end to Lebanon's civil war.
The Iranian born Sadr who founded the Amal Movement which is now headed by Parliament Speaker Nabih Berri, went missing during a visit to Libya on Aug. 31, 1978, along with his two companions – Sheikh Mohammad Yacoub and journalist Abbas Badreddine.
Mansour who represents the Amal Movement in the cabinet is the first high ranking diplomat to visit Libya during the past 30 years.
Many March 14 observers questioned Mansour's determination to probe the disappearance of Imam Sadr , while at the same time ignoring the hundreds of Lebanese who are still in Syrian jails . One observer told Ya Libnan last Wednesday:" Damascus is a lot closer …why hasn't Mansour shown any interest in the fate of the Lebanese in Syrian jails?"