Lebanon FM in Libya to discuss Imam Sadr's disappearance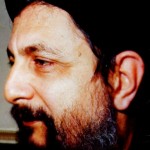 A Lebanese delegation headed by Foreign Minister Adnan Mansour arrived in Tripoli on Wednesday to discuss the the mysterious disappearance of Shiite Imam Moussa al-Sadr who went missing upon arrival in Tripoli in 1978.
Sadr, a charismatic spiritual leader, had reportedly been officially invited to Libya during the rule of Moammar Gadhafi in 1978 along with an aide and a journalist to negotiate an end to Lebanon's 1975-1990 civil war.
The three men went missing and Tripoli claimed that the cleric had left Libya for Italy.
Libya is ready to work with Lebanon to probe the disappearance of the Shiite Imam an official said Wednesday.
The ruling National Transitional Council was "ready to form a joint commission with the Lebanese to investigate" what happened to Sadr, said Fathi Baja, head of political affairs at the NTC.
"NTC members, including its president Mustafa Abdel Jalil, have no information about the circumstances of the disappearance and what happened to Imam al-Sadr and those who accompanied him," said Baja.
He said some clues of their case could possibly be found in files obtained by the new rulers which belonged to the intelligence, foreign affairs and police authorities of the previous regime.
Mansour said at Beirut airport prior to departing to Libya that the visit of the Lebanese delegation aimed at "turning the black page of the past in the Lebanese-Libyan relations."
"We aim through this visit and our talks with the Libyan officials to unveil the truth and liberate the abductees," he added.
Baja also dismissed recent reports that al-Sadr had died of natural causes in a prison cell in 1998.
"There is no information about that. Everything that was said is a rumor. There is no evidence," he said.
Sadr's trip to Libya was aimed at negotiating an end to Lebanon's 1975-1990 civil war.
The Iranian born Sadr who founded the Amal Movement which is now headed by Parliament Speaker Nabih Berri, went missing during a visit to Libya on Aug. 31, 1978, along with his two companions – Sheikh Mohammad Yacoub and journalist Abbas Badreddine.
Mansour who represents the Amal Movement in the cabinet is the first high ranking diplomat to visit Libya during the past 30 years.
"The investigation is on… there is a commission of inquiry chaired by the Libyan attorney general" which is probing the case, Mansour said after meeting Mustafa Abdel Jalil, the head of Libya's ruling National Transitional Council (NTC) on Thursday.
"We agreed to have follow-ups between Lebanese and Libyans, and there will be a judge representing the Lebanese side, Hassan al-Shami, to follow the issue and arrive at a positive outcome." He added
Many March 14 observers questioned Mansour's determination to probe the death of the late Imam, while at the same time ignoring the hundreds of Lebanese who are still in Syrian jails . One observer told Ya Libnan:" Damascus is a lot closer …why hasn't Mansour shown any interest in the fate of the Lebanese in Syrian jails?"