Mixed reaction to Ban Ki-moon's visit to Lebanon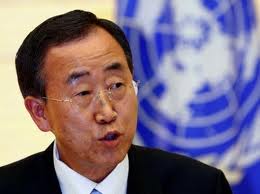 As expected the reaction to the visit to Lebanon by U.N. chief Ban Ki-moon and Terje Roed-Larsen, the Special Envoy for the implementation of UN Security Council resolution 1559 was criticized by Hezbollah but welcome by March 14 alliance
According to a statement issued by the Syrian Social Nationalist Party, the head of Hezbollah's Shura Council, Sheikh Mohammad Yazbek, said on Saturday that UN Secretary General Ban Ki-moon is not "welcome" in Lebanon.
The statement also added that US Assistant Secretary of State for Near Eastern Affairs, Jeffrey Feltman, is not welcome in Lebanon.
On the other hand March 14 MP George Adwan who represents the Lebanese Forces in the parliament said on Saturday that UN Secretary General Ban Ki-moon's visit to Lebanon is a "positive step."
Adwan told Future TV that the country's interest "calls for showing that Lebanon respects international resolutions, and that its cabinet also respects these resolutions."
He also voiced surprise over the negative positions of the Hezbollah led majority over Ban's visit to Lebanon.
Larsen may propose during his upcoming visit to Lebanon the deployment of the U.N. Interim Force in Lebanon along the border with Syria, according to a report by the Kuwaiti al-Qabas newspaper on Saturday.
Larsen reportedly considers such a move an attempt to limit the smuggling of arms across the Lebanese-Syrian border.
Larsen reportedly also believes that the deployment may also prevent Lebanon from becoming an open ground for terrorists to infiltrate Syria.
Resolution 1559 , which was established in 2004 calls for demarcating the Lebanese-Syrian border and disarming militias in Lebanon.
The Blue line currently demarcates the borders with Israel in south Lebanon.
Hezbollah is allied with the regime of Syrian president Bashar al Assad and is strongly opposed to 1559 resolution.