Tension to intensify as Iran, Israel, US plan Gulf exercises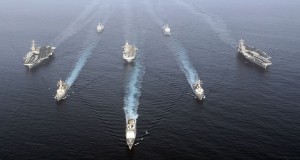 Tension in the oil shipping lanes of the Gulf looks set to intensify amid indications that Iran, Israel and the US will hold military exercises designed to test weaponry and tactics.
As the US and European Union press ahead with oil sanctions on Iran, Tehran's defence minister announced on Friday that the Iranian Revolutionary Guard Corps will hold large-scale exercises in the Strait of Hormuz and the Gulf next month.
The drills will be the "greatest naval war games" to be conducted by the Iranian military's elite corps, Brigadier General Ahmad Vahidi, said in remarks published by the semi-official Fars news agency. The exercises, called "the Great Prophet", will take place in February and will be more extensive than Iranian naval manoeuvres in the Sea of Oman that ended this week.
The Iranian announcement came as it emerged that the US and Israel are gearing up for a major missile defence exercise in the next few weeks. The drill, called "Austere Challenge 12", is designed to improve defence systems and co-operation between the US and Israeli forces. According to an Israeli official cited by the Associated Press, the drill will test multiple Israeli and US air defence systems against incoming missiles and rockets.
Israel has deployed the "Arrow" system, which was jointly developed and funded with the US and is designed to intercept Iranian missiles in the stratosphere, far from Israel.
The announcements of the exercises are the latest indication of mounting tensions between Iran, Israel and the west over its nuclear programme. The EU is set to impose sanctions on oil imports from Iran on January 30 while the US is set to impose petroleum-related banking sanctions on Iran from June of this year.
Most defence experts believe it is highly unlikely that Iran will act on a threat to close the Strait of Hormuz, one of the world's major sea lanes for the oil trade. However, many experts are concerned that the amount of military activity in the region could lead to an incident that triggers a conflict.
FT