Britain to send its most advanced naval ship to the Gulf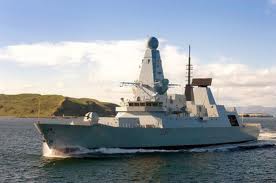 Britain is due to send Royal Navy's HMS Daring, one of the most advanced ships in its fleet, to the Gulf on her maiden mission as Iran threatens to block the Strait of Hormuz.
The strait is one of the busiest oil routes. Last year alone, about 17 million barrels of oil passed through the strait every day.
British Defence Secretary Philip Hammond warned Iran that any attempt to block the Strait of Hormuz would be "illegal and unsuccessful" and would be countered militarily if necessary, a Press Association report has said.
Similar warnings have been issued by other western powers in a bid to avert a blockade.
The ship, built with a cost of £1 billion, is set to sail through on 11 January. HMS Daring can detect and shoot down any missile by Iran, according to the Daily Telegraph. The ship is fitted with the most sophisticated radar which is capable of tracking multiple aerial threats. It can also accommodate helicopters and hundreds of people in case of an emergency.
Britain has maintained its presence in the waters of East of Suez for several years. Although the deployment of the vessel was planned a year ago, it comes at a time when Iran and the West are almost on the verge of an open confrontation.
Iran just completed a 10-day naval exercise near the Strait of Hormuz and has announced that similar a exercise will be held in February.
Over the past two months, relations between Iran and the western countries, particularly the U.S. and the UK, has deteriorated over the Islamic republic's alleged nuclear weapons programme.
The UK imposed financial sanctions on Iran over its nuclear plans. Iran, on its part, reacted by expelling the British ambassador to Tehran. Anti-British protesters stormed the British embassy and ransacked the diplomatic compound on 29 November. Britain expelled all Iranian diplomatic staff from the UK the next day.
IBT