US rescues 13 Iranian seamen from pirates, despite tension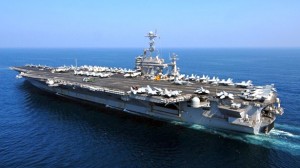 Casting aside current tensions between the U.S. and Iran, the U.S. Navy on Friday rescued 13 Iranian seamen who were being held captive by Somali pirates in the Gulf of Oman.
A Navy helicopter from the aircraft carrier USS John C. Stennis, responding to a distress call from a merchant ship under attack by pirates, chased the pirates to their "mother ship," an Iranian-flagged dhow that had earlier been hijacked.
A heavily-armed counter-piracy team from the Navy destroyer USS Kidd met little resistance when they boarded the dhow where they found 15 armed pirates and the 13 Iranians who were being held hostage. The pirates were taken into custody. The Iranians were set free in their dhow.
A dhow is a type of sailing vessel frequently used for commercial transits in the ( Arabian ) Persian Gulf and Indian Ocean.
This is not the first time that the US navy rescues Iranians . On August 20, 2010 the U.S. Navy rescued eight Iranian fishermen by SS Harry S. Truman aircraft carrier in the Arabian Sea and were transferred to an Iranian ship. The Harry S. Truman spotted the Iranian burning vessel and found the Iranians floating in a raft nearby. The carrier dispatched two helicopters to rescue the men, brought them on board and gave them medical attention and dry clothing.
msnbc