Damascus blast: Syrians blame Assad regime, Hezbollah bames U.S.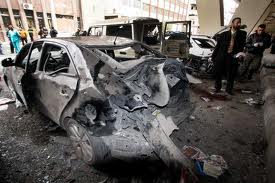 The Syrian Local Coordination Committees accused the Syrian regime of being behind the blast that tore through the Damascus densely populated neighborhood of Al-Midan, according to Al-Arabiya TV.
According to the most recent reports the blast resulted in the killing of 25 people and the wounding of 60
According to reports coming from Damascus, the Syrian government was well prepared for the incident had cameras, ambulances and reporters at the scene of the explosion when it occurred to prove to the world that terrorists were behind the blast .
But Lebanon's Hezbollah militants on Friday accused the "terrorist" United States of being behind the bombing in Damascus.
"This terrorist crime targeting the heart of the Syrian capital is the second installment of a plan by the evil force, the United States, to punish Syria for standing by the resistance (Hezbollah) against the Zionist enemy (Israel)," a statement by Hezbollah said.
It said the bombings aimed to compensate for Washington's "humiliating withdrawal" from Iraq.
Hezbollah also blamed the United States for the twin bombings which left more than 40 people dead in Damascus on December 23, but Syrian officials blamed Al-Qaeda.
The Iranian and Syrian-backed Hezbollah, which dominates the Lebanese government, has staunchly stood by the regime of President Bashar al-Assad throughout the crisis.