Explosion in Damascus Leaves 25 People Dead
A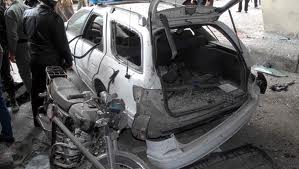 n explosion tore through a densely populated neighborhood in Damascus on Friday, killing 25 people and wounding dozens more in the second attack in the Syrian capital in two weeks, Syrian television and other state media reported.
Government media said the attack was carried out by a suicide bomber at a busy intersection, and television broadcast images of a wrecked police bus, asphalt smeared with blood and glass and the shattered windshields of other vehicles. It said the blast was "a powerful explosion" in the neighborhood of Midan, which has proven restive, and it said both civilians and personnel with the security forces were wounded and killed.
Syrian television put the number of wounded at 46.
The attack came exactly two weeks after another bombing in Damascus, which killed 44 people. In the prevailing climate in the capital, where suspicions of any party's intentions run rife, state media blamed "terrorists," and a spokesman for an insurgent group suggested the government carried out the attack to sully the opposition's image.
"We're expecting more of these bombings in the coming days," said Ammar al-Wawi, a defecting colonel reached by phone who works with an insurgent group called the Free Syrian Army. "This regime is seeing to spread chaos in Syria."
The bombings Friday and in December seem to mark a potentially new chapter in the uprising against the government of President Bashar al-Assad. While many protests across the country remain peaceful, the uprising itself has become more violent in past months. The bombings themselves recall another revolt in the late 1970s and 1980s that posed a sweeping challenge to the rule of Mr. Assad's father, Hafez.
In a nearby neighborhood, Kafr Souseh, a 57-year-old resident reached by phone described a tense, chaotic aftermath in the capital, as government paramilitaries known as shabeeha moved through the streets around noon.
"I don't know what's happening today," he said. "We heard about the explosion but right now shabeeha and security are shooting and arresting young men randomly."
As he spoke by phone, he said he could see someone arrested from his window.
"Oh, my merciful God!" he started shouting.
The attack Friday came ahead of weekly protests that seem to have gathered more momentum since the arrival of an observer mission from the Arab League in December. Many protesters have expressed anger that the mission had done little to stem the bloodshed, and the demonstrations were expected to call for the Arab League to shift responsibility for the monitoring of human rights violations to the United Nations.
NYT