Britain's defence secretary has warned Iran that any attempt to block the key global oil passageway the Strait of Hormuz would be illegal and unsuccessful – hinting at a robust international response.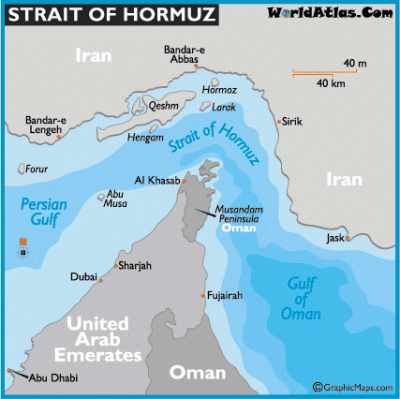 During his first visit to the Pentagon for talks with US Defense Secretary Leon Panetta, Philip Hammond told the Atlantic Council in Washington that the presence of British and American naval ships in the Persian Gulf would ensure the route is kept open for trade.
Iran has threatened to close the route in possible retaliation to new US and European economic sanctions, a tactic the US already has said it would not tolerate.
About one-sixth of the world's oil passes on tankers through the Strait of Hormuz, and analysts have warned the price of Brent crude could temporarily jump to as high as $US210 ($A203.14) if the strait is closed.
"Disruption to the flow of oil through Strait of Hormuz would threaten regional and global economic growth. Any attempt by Iran to do this would be illegal and unsuccessful," said Hammond, who was appointed as Britain's top defence minister in October.
Britain has already downgraded ties with Iran following a major attack on its embassy in Tehran in November, which it insists was sanctioned by Tehran's ruling elite.
In response, Britain pulled all of its diplomats out of Iran and expelled Iranian diplomats from UK soil.
Though Hammond did not specifically threaten a military response if Iran blocks the movement of oil tankers, he warned Tehran that both British and US forces would be close at hand.
"It is in all our interests that the arteries of global trade are kept free, opening and running," Hammond said. "For example, our joint naval presence in the Arabian Gulf, something our regional partners appreciate, is key to keeping the Strait of Hormuz open for international trade."
The US and the 27-nation EU imposed sanctions against Iran over its contentious nuclear program, which the West insists is aimed at producing atomic weapons. Iran denies the charge, claiming the program aims to generate civilian electricity and produce medical radioisotopes needed to treat cancer patients.
US officials have said the Navy's Fifth Fleet, based in nearby Bahrain, is prepared to defend the shipping route.
smh