Syria Runs Torture Chambers, Activists Say
An activist group accused the Syrian regime on Thursday of torturing hundreds of people to death in overcrowded prisons, jails and illegal detention centers across the country since an uprising began in March.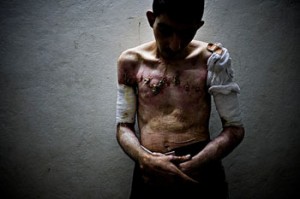 Avaaz, an online global activist group, issued a report saying 617 people have been confirmed killed under torture by President Bashar Assad's forces as they cracked down on the revolt.
"Assad's henchmen have tried to break the pro-democracy movement in these torture chambers, but brave Syrians are still standing up for their rights," said Stephanie Brancaforte, Campaign Director at Avaaz.
The alleged torture victims are among 6,874 people killed since the uprising began, Avaaz said, giving a significantly higher toll than the estimate of 5,000 given several weeks ago by the United Nations.
The Local Coordination Committees, an opposition group that tracks the deaths in Syria, said up to 20 people were killed in Thursday violence.
In its report, Avaaz said it verified each death by three independent sources, including a family member of the deceased and the imam who performed the funeral procession. The group said it works with a team of 58 human rights monitors in Syria.
The group encouraged Arab League monitors in the country to "visit these torture chambers and ensure the regime immediately end these atrocities."
Syria generally does not respond to criticism about its human rights record. But the regime has long contended that the turmoil this year is not an uprising by reform-seekers but the work of terrorists and foreign-backed armed gangs. Most international observers dismiss that claim as an attempt by an autocratic regime to terrify its citizens into abandoning the revolt.
Avaaz's figures are impossible to independently confirm, with Assad's regime continuing to bar almost all foreign journalists or human rights groups from entering Syria.
Syrian state-TV reported Thursday that authorities have released more than 500 prisoners accused of involvement in anti-regime activities. The move appeared to be another gesture to comply with an Arab League plan to end the regime's 9-month-old crackdown on dissent.
Arab League chief Nabil Elaraby said this week that Syria had released about 3,500 detainees in recent weeks. And state television said Thursday another 552 had been released.
But Avaaz said Thursday that 37,000 people remain in detention.
The Arab peace plan, being monitored by about 100 Arab League observers now in Syria, requires Assad's regime to remove security forces and heavy weapons from cities, start talks with opposition leaders and free political prisoners. The League claims it has won some concessions from Syria, including the pullout of heavy military weaponry from cities and the release of thousands of prisoners.
However, Syria's opposition is accusing the regime of misleading the monitors by taking them to areas loyal to the government, changing street signs to confuse them, painting army vehicles blue to look like those of police and sending supporters into rebellious neighborhoods to give false testimony.
An Arab League official said the observers have not reported or complained about being misled by the regime. He said the Syrian opposition is making pre-emptive statements, fearing the regime might try to mislead the monitors.
Addressing the opposition's complaint about painting military vehicles blue to appear as police vehicles- something that has been seen on amateur videos – the official said: "Observers know what is for the army and what is for police." The official spoke on condition of anonymity because he was not authorized to speak to the media.
He added that additional monitors will head to Syria on Friday to raise the total numbers of observers to about 140.
Assad agreed to the Arab peace plan on Dec. 19, but the Arab League has acknowledged that its plan has failed to stop violence. Activists have reported nearly 400 deaths since the monitors began work last week.
On Thursday, a team of monitors visited the tense Damascus suburb of Arbeen, two village in the southern province of Daraa and a hospital in the central city of Hama, state TV said.
Huffington Post