Oil falls after surprise U.S. inventory build
Oil fell on Thursday, pressured by an unexpected build in U.S. crude stockpiles that outweighed concerns that rising tensions between the West and Iran will disrupt supplies.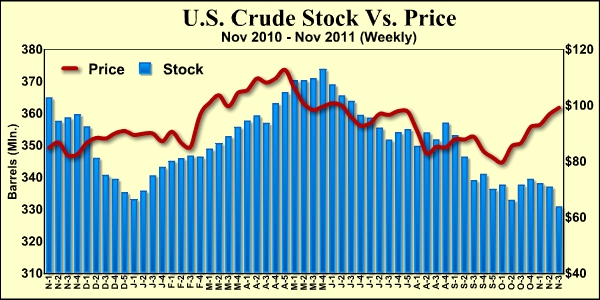 Crude prices, already down due to gains in the dollar, added to losses after U.S. government data showed a build in oil inventories in the week to December 30, countering forecasts that refiners had cut stockpiles for year-end accounting purposes.
"The figures look bearish but they're not significantly bearish that they will turn the recent rally down," said Gene McGillian, analyst for Tradition Energy in Stamford, Connecticut.
"The market is concerned with economic indicators and Middle East tensions."
After European Union leaders agreed to halt purchases of Iranian crude to pressure Tehran on its nuclear program, Iran faced the prospect of cutbacks in its oil sales to China and Japan that would further threaten its economy.
Iran had threatened to halt shipping through the Strait of Hormuz if faced with greater sanctions, supporting crude prices in recent weeks. The United States has said it would counter any attempts to block the waterway and Saudi Arabia has pledged to increase output in case of a sudden supply cut.
Brent crude futures traded down 46 cents at $113.24 a barrel by 11:29 a.m. EST (1629 GMT).
U.S. crude, which is less influenced than Brent by international developments and more by domestic oil inventories, fell 64 cents to $102.58 a barrel.
Reuters