Geagea calls Ghosn's statement on al-Qaeda immoral
Defense Minister Fayez Ghosn on Tuesday said the army has "clear information" about the presence of al-Qaeda members in the Bekaa border town of Arsal, noting that "the army raided Arsal in search of Hamza Qarqouz," who is believed to be an al-Qaeda militant who had fled from Syria to Lebanon.
In an interview on OTV, Ghosn added: "It is our duty as politicians and officials to announce that there is an infiltration by some extremists, including al-Qaeda members, through the borders, and it is our duty not to conceal things."
"I said in the cabinet that there is information about an infiltration of terrorists through illegal border crossings, including Arsal's, and the town of Arsal was not directly accused of that," Ghosn said, noting that "the president and premier are aware of this information."
Hitting back at former premier Saad Hariri, the minister said: "We are not the shabiha (militiamen) of the Syrian regime and we're not in anyone's subservient ."
"I'm an Arab minister and, first and foremost, the defense minister of Lebanon. I'm entrusted with the military institution and I do not make mistakes in such critical issues," Ghosn added
Immoral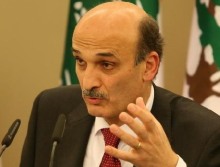 Lebanese Forces leader Samir Geagea said in remarks to be published on Thursday that Ghosn's statement that Al-Qaeda members are present in Lebanon is "immoral."
Geagea told Kuwaiti newspaper Al-Rai that authorities should first track down and find the alleged fundamentalists and only after arresting them should it be announced to the public.
The LF leader said Ghosn's behavior is "unacceptable," adding that the Lebanese defense minister's recent statement serves the interests of the Syrian regime at the expense of Lebanon.
Last week Ghosn warned of the presence of Al-Qaeda cells in Arsal, near the Syrian border.
Ghosn who is reportedly closely associated with the Iranian and Syrian backed Hezbollah and MP Michel Aoun informed the Lebanese cabinet on December 22 that al-Qaeda members had infiltrated the Bekaa town of Arsal.
President Bashar al-Assad's regime has blamed December 23 rd twin suicide bombing on "terrorist organizations," including Al-Qaeda, and quoted Lebanese officials as warning Syria that Al-Qaeda members infiltrated into Syria from the town of Arsal.
Last Saturday Interior Minister Marwan Charbel reiterated that "there is no organization called Al-Qaeda in Lebanon." However, he added that there "are people who have been sympathizing with the organization since 2003 following the US occupation of Iraq and after the establishment of fundamentalist movements in Afghanistan and Yemen where Al-Qaeda is present."
"Al-Qaeda is not present in Lebanon; otherwise the security forces would have uncovered its members ," Charbel told MTV on Saturday