Aoun defends Ghosn and Hezbollah arms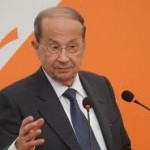 Following the weekly meeting of his Change and Reform bloc MP Michel Aoun defended Minister of Defense Fayez Ghosn 's statements about the presence of Al-Qaeda members in Aarsal.
The defense minister is the most qualified person to talk about al-Qaida because he is the one following up on the matter and the fact that another minister says that he does not have information on the matter does not mean that he is denying it.
Ghosn who is reportedly closely associated with Hezbollah and Aoun informed the Lebanese cabinet last Thursday that al-Qaeda members had infiltrated the Bekaa town of Arsal.
But according to Lebanon's Interior Minister Marwan Charbel, Ghosn only spoke of information he obtained and not of reports that al-Qaeda members had been arrested, especially since the border region is controlled by the Lebanese army.
"I don't know if this information is a result of the coordination between the Lebanese and Syrian armies," Charbel told Asharq al-Awsat newspaper on Sunday.
President Bashar al-Assad's regime has blamed Friday's twin suicide bombing on "terrorist organizations," including Al-Qaeda, and quoted Lebanese officials as warning Syria that Al-Qaeda members infiltrated into Syria from the town of Arsal
March 14 official Fares Soueid commented on the speed by which the Syrians accused al-Qaeda of the bombing.
If they were able to find out within minutes who was behind the twin explosions , why don't they tell us who killed ( Hezbollah commander ) Imad Mughniyeh?
Mughniyeh who was assassinated in Damascus on February 12, 2008 in a car bomb was the head of Hezbollah's security section, a senior intelligence official and one of the founders of the organization.
Similarly Progressive Socialist Party leader MP Walid Jumblatt criticized the statements made by Ghosn .
"If only some officials would wisely and rationally deal with such issues and resolve them, by boosting security, not by making statements." Jumblatt said about Ghosn, stressing that such issues should not be resolved through political and media statements."
Commenting on the suicide bombing in Syria that killed 44 and wounded over 100 Aoun said this will "not change the Syrian regime."
Non-state arms
Aoun also addressed Maronite Patriarch Bechara Boutros al-Rai's statements on non-state arms in Lebanon by hinting that the time is not right to implement his ideas
"When the right time comes, then we will be in a position to support Rai's point of view and Hezbollah's Secretary General Sayyed Hassan Nasrallah will support our position ." Aoun who is a strong ally of Hezbollah did not elaborate about "when the right time comes. "
"The state is obligated to guarantee the people's safety, gather all arms, and limit security duties to the state, which will therefore ensure an arms-free Beirut and arms-free Lebanon." The Maronite Patriarch said on Sunday .
"The state should delegate all security and defense duties to the political authorities." Rai stressed
Rai's statements come after Beirut MPs demanded on Monday that Beirut be stripped of all armed groups in order to avert armed clashes that had erupted in the capital in recent years,
Rai also said that the judicial authority should act independently and away from external meddling.