Al-Sadr's bloc calls for dissolution of Iraqi parliament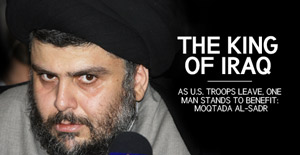 A political crisis that threatens more sectarian strife in Iraq took another twist Monday as the bloc loyal to radical Shiite cleric Muqtada al-Sadr called for the dissolution of Parliament and early elections.
In an online statement, the head of the Sadrist parliamentary bloc Baha'a al-Araji said Iraq is facing a new era with problems that rob the nation of stability and sovereignty.
The Sadrist bloc serves as a key ally of Prime Minister Nuri al-Maliki, a Shiite.
Al-Maliki managed to forge a fragile coalition and secure a second term in office because of backing from followers of al-Sadr, the powerful leader of the notorious Mehdi Army that fought some of the fiercest battles against U.S. forces.
Al-Maliki's tenuous support among Iraq's Sunnis, who feel marginalized by a Shiite-dominated government, was further strained after he ordered the arrest last week of Sunni Vice President Tareq al-Hashimi on charges that he ordered bombings and assassinations.
With the Sadrist statement Monday, al-Maliki's hold on power appeared to be further eroding.
Al-Araji said he would submit the Sadrist proposal to the National Alliance, the dominant Shiite alliance that includes al-Maliki's coalition.
He said the Sadrist bloc made its decision for the sake of Iraqi unity. The bloc blamed al-Maliki's government for failing to find a solution to the current political turmoil.
A statement signed by al-Sadr said: "In my personal opinion, the creation of the kind of problems that we are seeing in this period will result in a situation that will harm the nation, its unity and its security."
Al-Sadr said the crisis could tarnish the prime minister's reputation and result in the consolidation of power with one-man rule.
He argued that it was the Iraqi people who were suffering the consequences of political squabbling and that such moves could also further isolate Iraq from its neighbors and the rest of the Arab world.
He ended the statement by saying that al-Hashimi's trial should be under parliamentary supervision and free of political influence.
Al-Hashimi said al-Maliki's charges against him are politically motivated and fled to the semi-autonomous Kurdish region.
His arrest warrant was issued just days after the Iraqiya bloc suspended its participation in Parliament amid claims it was being cut out of the political process. The cross-sectarian as well as Sunni-backed bloc castigated the al-Maliki government for shunning cooperation despite the power-sharing arrangement.
It said it is considering sending a request to parliamentary leaders to withdraw support for al-Maliki and come up with a new prime minister to form a post-occupation government.
"Believing that they not only won the elections of 2010 (which they marginally did), yet having been increasingly excluded from meaningful roles in Baghdad, Iraqiya is in an intolerable situation," wrote Iraq expert Gareth Stansfield, an associate fellow at the London think tank Chatham House.
"The Kurdish front and Iraqiya have found common cause in opposing the attempts of the prime minister to consolidate his control over Iraq's key institutions, and this struggle is now creating the setting for Iraq's political development in 2012," Stansfield wrote.
There have also been mounting calls for federalism from at least three predominantly Sunni provinces, which al-Maliki has called a recipe for the partitioning of Iraq.
"Federalism as an idea has been a grenade waiting to have the pin pulled from it ever since the Constitution of Iraq, passed in 2005, allowed for the formation of 'regions….' It is no understatement to say that the federalism question is one which will dominate political life, perhaps violently, in the months ahead," Stansfield said.
The political crisis erupted just days after U.S. troops withdrew and as a fresh round of violence flared in Baghdad. It has given rise to fears that Iraq is in for more sectarian bloodshed, which ripped apart the country at the height of the Iraq war.
CNN