Labor minister says wage increase does not affect the private sector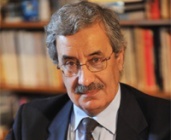 The recent decision taken by the cabinet to increase wages "does not include the public sector," Lebanon's Minister of Labor Charbel Nahhas told New TV television on Saturday
Nahhas who represents the Free and Patriotic Movement (FPM) in the cabinet expressed his hope that the council would accept the new plan to increase the minimum wage.
His comments come after Lebanon's Economy and Trade Minister Nicolas Nahhas said on Friday that the economic institutions will not be able to implement the wage hikes recently decided by the cabinet and hinted that this could result in bankruptcy filings by many sectors of the economy.
The cabinet voted on Wednesday to increase the minimum monthly wage from 500,000 LL to 868, 000 LL or about 74 %. The increase was based on a proposal presented by Nahhas.
Information Minister Walid Daouq said following the meeting that the ministers also agreed to increase the daily minimum wage to 33,000 LL and introduce a minimum monthly transportation allowance of 268,000 LL.
Daouq also said that salaries less than LL1.5 million will be increased by 18 percent while salaries between LL1.5 million and LL2.5 million will be increased by 10 percent. Wages above LL2.5 million will million will receive a flat increase of LL370,000
The new wages are retroactive to December 1, 2011.
Lebanese Association of Industrialists chief Nehme Efram rejected the cabinet's latest decision on wage hikes and pledged not to implement the new wage plan
He told told MTV television on Thursday evening: "We will not accept" the cabinet's latest decision to increase minimum wage and will not implement it".
Similarly the Economic Committees condemned on Thursday the cabinet's latest decision on wage hikes and said the wage plan by the cabinet is a wrongful decision that will be a major blow to the economy."
The head of the committee Adnan Kassar said: "We hope the Shura Council will reject the decision."
He urged the government to retract the decision since it is "a blow to the most important basis of stability in Lebanon."
Public Works and Transportation Minister Ghazi Aridi , who represents the Progressive Socialist Party in the cabinet said on Thursday " the voting that took place Wednesday during a cabinet session to discuss the issue of wages was politically-motivated, National News Agency reported.
Lebanese Forces bloc MP Antoine Zahra branded the new wage hike proposed by the FPM minister a "bribe"
stressing that all the economic experts said it will ruin the economy and cause the closure of many small and large institutions."
Zahra also said in his statement that "the Lebanese people deserve a government that does not yield to blackmail and does not offer fake victories at the expense of Lebanon's national economy and the stability."
FPM declared victory following the approval of the wage hike by the cabinet.
Many fear that the new wage increase would be quickly offset by inflation.