Lebanon FM condemns the suicide bombings in Syria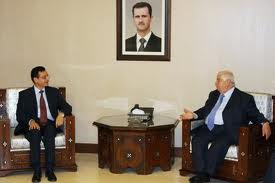 Lebanon's Foreign Affairs Minister Adnan Mansour called his Syrian counterpart, Walid Mouallem, on Friday to denounce the blasts that rocked Damascus earlier in the day.
"In the name of the Lebanese government, we strongly condemn the inhumane criminal attack on Syria," Mansour was quoted as telling Mouallem.
The National News Agency reported that the Lebanese minister "assured Mouallem of Lebanon's solidarity with Syria."
Friday's bombings resulted in the death of over 44 and the wounding of over 100 .
Lebanon's political scene is bitterly divided between those who support the Syrian regime and those who support the pro- democracy revolt.
Last October , March 14 MP Ahmad Fatfat commented on the activities of Mansour by saying: "We don't know any longer who is Lebanon's Foreign affairs minister and who is the Syrian ambassador "adding" we also don't know if the position of the foreign minister represents the stance of the government ."
Mansour is a member of the Amal Movement a close ally of the Iranian and Syrian backed Hezbollah militants.
Both Hezbollah and Amal are staunch allies of Syria and have been supportive of the Syrian regime in its crackdown against the pro-democracy protesters .
Over 6200 Syrians were killed since the uprising began last March 15 according to Human rights organizations