Hezbollah says US behind blasts, Hariri says Syria staged them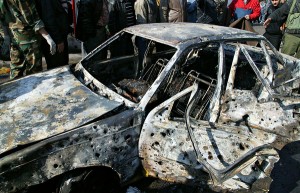 Hezbollah accused the United States of being behind the the two suicide bombings that targeted security service buildings in Damascus on Friday, while former Lebanese PM accused Damascus of staging them .
"These blasts that resulted in the death and injury of dozens of people… are the specialty of the US, the mother of terrorism," Hezbollah said in a statement.
"Hezbollah condemns this horrible crime and assures that such terrorist [acts] will not [harm] the Resistance or the powers [that oppose the West]."
On the other hand the former PM and Future Movement leader said via Twitter:
"This is really confusing…and I believe that the blast was engineered by the Syrian regime, just like the Syrian National Council declared."
Commenting on the Syrian Foreign Ministry's statement that Beirut "warned Damascus that members of Al-Qaeda [infiltrated Syria] two days ago from Lebanon," Hariri said that "this is fabricated by the Syrian ministry and some of its tools in Lebanon."
Syria blamed Friday's bombings on Al-Qaeda and put the death toll at more than 30, with more than 100 wounded. Other reports indicated that over 40 were killed in the bombings
It is claimed that two car bombs were detonated near security sites, causing widespread damage.
The explosions came a day after Arab League officials arrived in Damascus, to pave the way for a monitoring team to enter the country.
Members of the delegation have visited the sites of the explosions.
The attacks were the first of their kind against the powerful security services in the heart of the capital since unprecedented protests against Syrian President Bashar al-Assad's regime erupted in mid-March.
One bombing targeted the General Security Directorate, Syria's most important plainclothes security service, in the Kfar Soussah neighborhood of Damascus.
The second exploded outside a nearby military intelligence building.
Lebanon's political scene is bitterly divided between those who support the Syrian regime and those who support the pro- democracy revolt.
Over 6200 were killed since the uprising began last March 15 according to Human rights organizations