Bombers might have crossed from Lebanon; Syrian TV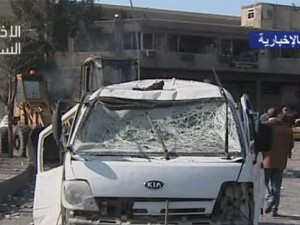 Syrian state television said the two suicide bombers who blew up their cars in Damascus, killing at least 50 people on Friday, might have crossed the border from neighboring Lebanon.
Sherif Shadeh, a Syrian analyst close to the regime, told the broadcaster that Damascus had been warned on Tuesday by Lebanon that al-Qaeda militants had sneaked into Syria through the Bekaa valley, in eastern Lebanon.
Lebanese Defense Minister Fayez Ghosn on Wednesday told a cabinet session in Beirut that al-Qaeda members had entered Lebanon in recent weeks and might be planning terrorist attacks.
M&C