US journalist found dead in Sannine mountain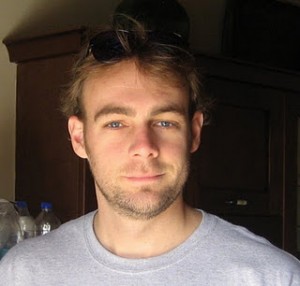 John Redwine, a 33 year old American citizen from Sioux Falls (Iowa), was found dead in a hole in Sannine Mountain, Northern Beirut.
He was reported as "missing" over the weekend, and an American Embassy team joined the Lebanese military in their search efforts. Approximately 100 personnel from both the Lebanese Army and the Internal Security Forces (ISF) participated in the search operation.They used two helicopters and trained search dogs in their search efforts. "Teams said the man they had found appeared to have fallen to his death", reported the Daily Star.
Shortly before the discovery of the body after midday Tuesday, Redwine's Silver Volkswagen was found nearby to the popular mountains. Redwine's wife, Irina, sounded distraught when contacted by The Daily Star on her husband's disappearance and said she did not wish to talk to the media. According to the security sources, Mrs. Redwine arrived in Lebanon from Morocco Monday after she lost contact with her husband on Dec. 17. The wife contacted the U.S. Embassy about the case after she arrived in the country, the sources added".
They found his car close to the area where his body laid "in a wide hole" near the Beskinta mountains in the Northern Metn province. He used to walk in that mountainous region.
John graduated from the American University in Beirut where he earned a Masters degree in Middle East Studies; while he took different Lebanon jobs during the past 5 years, his latest post was a freelancer for Fox News.
Redwine also worked for Albany Associates who is financed by various international sources, especially the U.S. Department of State and the Pentagon. Simon Haselock, Albany's director, was NATO spokesman in Sarajevo during the American intervention there. The Lebanese Daily Star, however, reported that Redwine "worked for the Beirut office of BGR, a German federal institute for geosciences and natural resources that has been cooperating with the U.N. Economic and Social Commission for Western Asia (ESCWA) since 1992".
He is good friends with the Western community in Lebanon, which includes journalists, and his mates on Facebook are mostly graduates from prestigious universities. His death comes amid heightened tensions between the CIA and Hezbollah after the exposure of American agents stationed in Lebanon, where they were passing information to the Israelis.
Below is what the American University in Beirut said about Redwine:
John Redwine received a BA in History from the University of Montana. He joined CAMES in 2004 and received his MA in February 2008. While completing his master's degree at CAMES, he worked freelance as a copy editor for The Middle East Reporter. During the July 2006 war between Israel and Lebanon, he worked as an Arabic interpreter for ABC News, and also he also managed ABC's news desk for part of that conflict. Following the war, he worked as a press officer in south Lebanon for the aid organization International Medical Corps. His thesis, "Hizbullah's Political Capital and the July War", was largely informed by these experiences. After graduating, John worked as a staff writer for the English language, pan-Arab business publication, Executive Magazine in which he headed the editorial department before leaving to join the UK-based consulting firm Albany Associates. John is currently Project Director for Albany Associates' consultancy to the Government of Lebanon.
He also has a Twitter account in which he calls himself an "Independent public relations and communications professional based in Beirut, Lebanon with over a decade of experience in the Middle East and fluent Arabic"
It is very nasty for anyone to suggest that he is a CIA agent; this young man was simply interested in the Middle East, and that is it for now. Hezbollah had mentioned that the CIA network included journalists, among many other professionals, but the CIA is banned from hiring journalists. But Redwine called himself an "Independent public relations and communications professional based in Beirut, Lebanon with over a decade of experience in the Middle East and fluent Arabic".
The arab digest