Arab League: Observer advance team to Syria within 72 hours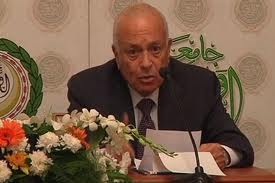 Arab League chief Nabil al-Arabi said on Monday that an advance team of observers would head to Damascus within 72 hours, after Syria inked a deal to end nine months of bloodshed.
"Within two or three days, an advance team of observers headed by Arab League Assistant Secretary General Samir Seif al-Yazal, including security, legal and administrative observers, will be sent," Arabi told reporters.
Other teams would follow, he said, adding that each team would comprise 10 observers specialised in human rights, legal and security issues.
Arabi was speaking at a joint news conference at League headquarters in Cairo with Syrian Deputy Foreign Minister Faisal al-Maqdad who earlier signed a document agreeing to allow observers into Syria.
Arabi said the agreement becomes effective from the moment it was signed, adding that the mission would last "one month" and can be renewed.
"The Arab League has a list of 100 names of observers from Arab, non-governmental organisations and representatives of Arab countries… (and) this number will be increased at a later date," he added.
He also called on all parties concerned to make a show of "goodwill" in order to implement the agreement.
The mission, he said, will allow the observers to move around Syria freely to monitor the situation and draft reports.
"The protocol is nothing but an Arab mechanism to go to Syria and move freely in various areas to confirm the implementation of the Arab plan which the Syrian government had previously agreed," he said.
The plan, endorsed by Syria on November 2, calls for a complete halt to the violence, the release of those detained as a result of recent events and the complete withdrawal of military presence from towns and residential districts.
The dispatch of observers to monitor the situation and allowing Arab and international media to enter Syria and move freely throughout the country are among its key points.
Arabi also announced that the pan-Arab bloc will organise a meeting with the Syrian opposition and prepare for a dialogue between the Damascus regime and its opponents.
"Within days, not more than a week, a meeting will be held for all the factions of the Syrian opposition at the Arab League to flesh out its positions and after that meeting the Syrian government will be invited to hold a dialogue with the opposition," he said.
emirates247