Arab League May Take Syria Issue To U.N.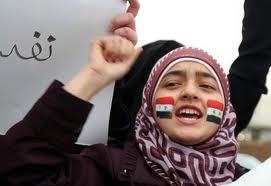 The Arab League has given Syria until Wednesday to allow observers into the country or else it will likely turn to the U.N. Security Council for action to try to end the deadly violence against regime opponents, Qatar's prime minister said Saturday.
Sheik Hamad Bin Jassem Bin Jabr Al Thani said in Qatar that Arab foreign ministers will hold a "decisive and important" meeting in Cairo on Wednesday to decide on next steps.
He said there is near unanimity among Arab states on taking the issue to the U.N. after Syria demanded changes to the Arab League's proposal for ending the violence.
The Arab plan called for Syria to halt its crackdown and to allow in Arab observers to ensure compliance with the deal. Syria had asked for some amendments regarding the work of the observers.
The 22-member League has also suspended Syria's membership and imposed sanctions, but it has been divided over whether to seek the help of the wider international community beyond the Arab world.
Hamad's remarks after an Arab ministerial committee meeting in Qatar on Saturday indicated that the camp objecting to outside intervention may be getting smaller.
Syria has seen a sharp escalation in armed clashes recently, raising concerns the country of 22 million is headed toward civil war. The U.N. raised its death toll for the Syrian uprising substantially this week, saying more 5,000 people have been killed since the revolt began nine months ago.
Russia began circulating a draft U.N. Security Council resolution Thursday that it said was designed to resolve the conflict in Syria. The draft calls for an end to all violence but does not contain sanctions.
That prompted the Arab League to consider putting forward an initiative of its own for the Security Council to consider, Hamad said at a news conference. He did not provide details.
Hamad said the Arab League wanted to see "that Arab resolutions are adopted rather than those of other nations."
The announcement in Qatar came as an Iraqi delegation arrived in Syria to meet with President Bashar Assad to discuss ways of ending the crisis.
Ali al-Moussawi, an adviser to Iraqi Prime Minister Nouri al-Maliki, said the delegation is seeking to find a peaceful solution "that preserves Syria's unity."
Many Iraqis fear that if civil war breaks out in Syria it could spread to Iraq, its eastern neighbor. Iraqi officials have not given details on the initiative they will discuss with Assad and other officials.
Iraq was one of few countries that abstained from voting in favor of Arab sanctions against Syria.
Hufiington Post