STL's Bellemare decides not to seek a second term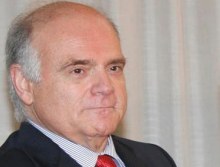 The Prosecutor of the Special Tribunal for the Lebanon (STL) , Daniel Bellemare, has informed the Secretary-General of the United Nations that, for health reasons, he does not intend to seek reappointment for a second term as Prosecutor at the end of February 2012, according to STL website.
Bellemare stated, "It has been an honor and a privilege to seek justice for the people of Lebanon. While this long and difficult journey is far from over, solid foundations have been laid to achieve justice and accountability for the attack of 14 February 2005 and connected cases, through the rule of law."
"I am proud to leave behind a strong team of committed professionals who have assisted me in the past three years in carrying out our challenging mandate and will continue to ensure that justice is achieved for the people of Lebanon," Bellemare added.
Reaction to Bellemare's announcement
Following the announcement 3 STL principals had the following reactions
President of the STL, Judge Sir David Baragwanath said:
"Daniel Bellemare has undertaken a difficult job with vigor and determination. During his time as the Prosecutor of the STL, Mr Bellemare oversaw the stepping up of the investigation. He also tackled the challenge of the transition to judicial activity….The staff of the Tribunal wish Mr Bellemare a prompt return to full health."
STL Registrar, Herman von Hebel said:
"As STL Prosecutor Daniel Bellemare has single-mindedly pursued that office's responsibility to investigate the attack on 14th February 2005. His commitment to fulfill the duties of a Prosecutor at an international Tribunal has been unwavering. This led to the submission and confirmation of an indictment earlier in the year. More recently the Pre-Trial Judge accepted the request of the Prosecutor to establish jurisdiction over the three connected cases. I wish him a speedy recovery from illness."
Head of the Defense Office, Francois Roux said:
"I regret that the Prosecutor's health has forced him to retire from the pursuit of justice. Despite our different points of view, I want to underline the Prosecutor's resolve in the exercise of his difficult mandate. The Tribunal would not be where it is today without his efforts. My staff and I wish that his health will continue to improve."
The UN-backed Special Tribunal for Lebanon (STL) has triggered a vivid debate about the fate of the four individuals accused of the terrorist attack that resulted in the assassination of the Lebanese Prime Minister Rafik Hariri and 22 others on February 14, 2005. The four alleged Hezbollah associates have been at large since June 28, 2011, when the counts against them were confirmed by the pre-trial judge and arrest warrants issued accordingly.