Bodyguard of Lebanon Fatah leader assasssinated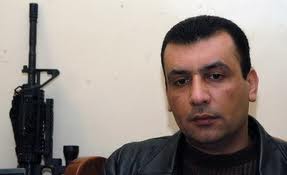 Unknown gunmen assassinated in the Ain al-Helweh Palestinian refugee camp one of the bodyguards of Palestinian Fatah chief Mahmoud Eassa, who is also known as " al-Lino,according to local reports .
The slain bodyguard was identified as Ashraf al-Qaderi.
The reports indicated that tension is very high in the Palestinian camp
On August 5 al-Lino himself escaped an assassination attempt that was reportedly masterminded by Usama al-Shahabi , the new leader of Fatah al Islam Islamist group .
Fatah has warned recently that the extremist groups Jund al-Sham and Fatah al-Islam have become like an "octopus" that is seeking wider influence in the camp through recruiting young members and called for clearing Ain el-Helweh and other Palestinian camps from such militants that are a threat to the Palestinian people.
Photo: Fatah's Lebanon commander Mahmoud Eassa, who is also known as "Al-Lino"