US: Assad's Syria regime a "dead man walking"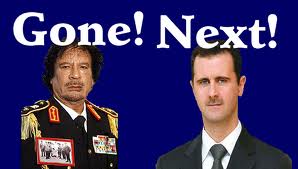 The Obama administration is predicting the downfall of Syrian President Bashar Assad with a senior official likening his authoritarian regime to a "dead man walking" over its brutal crackdown on pro-reform demonstrators and increasing international isolation.
The State Department official, Frederic Hof, told Congress on Wednesday that Assad's repression may allow him to hang on to power but only for a short time. And, he urged the Syrian opposition to prepare for the day when it takes control of the state in order to prevent chaos and sectarian conflict.
"Our view is that this regime is the equivalent of dead man walking," said Hof, the State Department's pointman on Syria, which he said was turning into "Pyongyang in the Levant," a reference to the North Korean capital. He said it was difficult to determine how much time Assad has left in power but stressed "I do not see this regime surviving."
Hof's comments came as violence across Syria killed at least 25 people on Wednesday, including eight soldiers who were gunned down by army defectors in a retaliatory ambush after government troops destroyed a civilian car, according to activists. It was the second day in a row that an attack by Assad's forces on civilians seemed to provoke a revenge strike from anti-regime fighters and a new sign that the once-peaceful protest movement is growing into an insurgency.
In an apparent bid to promote defections, Hof warned Syrian troops and Assad's top aides that Assad may be setting them up for possible war crimes or criminal charges by claiming in an interview with ABC News last week that the army was not his to command.
"It's difficult to imagine a more craven disclaimer of responsibility," Hof told members of the House Foreign Affairs Committee. "Perhaps it is a rehearsal for the time when accountability will come."
Assad's claim "to see, hear and know nothing" is a message to Syrian soldiers and regime officials that "your president will place the blame for crimes committed squarely on you," Hof said.
As Assad's time wanes, Hof said, the Syrian opposition must take care not to hurt chances for a democratic transition.
While calling for Assad's departure, the opposition has made clear that the institution of the Syrian state must stay to ensure the country does not break down along sectarian lines, Hof said. To that end, he said, the opposition needs to broaden its reach.
Secretary of State Hillary Rodham Clinton met in Switzerland last week with members of the Syrian National Council, an umbrella group of Assad foes, in a clear signal that the U.S. is willing to work with them.
CBS